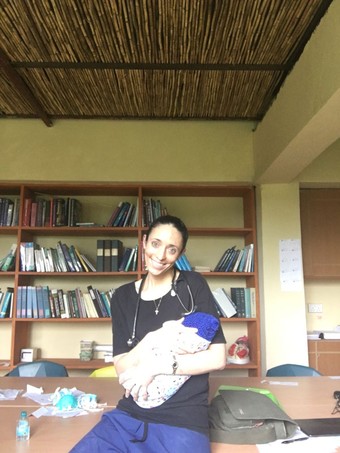 Sarah Villegas ('04) is determined to decrease the number of pregnancy-related deaths in Kenya. As a doctor and global health leadership fellow at Massachusetts General Hospital's Division of Global Health and Human Rights, Villegas is currently serving in a two-year program training doctors in Kenya how to safely perform C-sections — a skill that is greatly needed there and in other parts of the developing world, where a significant number of pregnancy-related deaths are completely preventable.
Villegas and other global health fellows receive further training by serving in projects that advance the division's mission to care for the world's most vulnerable. Her primary goal in Kenya is to not only provide direct patient care, but to also supervise medical practitioners to enhance training and develop sustainable, high-quality medical care.
"Medical skills are an amazing tool to love people," Villegas said. "While there are many, many ways to meet the physical needs of the lost and show them what God's love looks like, medicine is the way he wants me to do it."
She can't quite remember when she realized she wanted to be a doctor, but she knew she wanted to bring God's love to people who need him. At Biola, that desire led Villegas to double major in biological science and biblical studies. On top of being pre-med, she was an athlete — a power forward for four years on the Biola women's basketball team.
How did she manage to do all that? Villegas said it felt a lot like being in medical school; or in retrospect, the experience was great preparation for what was ahead of her. She eventually studied medicine at Drexel University in Philadelphia, completed a family medicine residency and served as the chief resident of education in Salinas, Calif., and now does clinical work at a residency program at St. Peter's Family Medicine in Olympia, Wash.
It wasn't a straight trajectory between Biola and medical school. Dr. Harvey Havoonjian, associate professor of biology and director of Biola's Office of Health Professions Advising, encouraged her to take a break before she headed to medical school. This led her to accept a job at a boarding school in Germany where she also coached basketball and volleyball. Now she is preparing for another residency in obstetrics later this year, as well as Biola's distance learning master's program in Christian apologetics.
Villegas has traveled far and wide and has made notable accomplishments thus far in her medical career, but said she wasn't a straight-A student, nor was her path without obstacles.
"Obstacles and challenges are a way to refine you," she said, "but with God's help, they will never stop you."