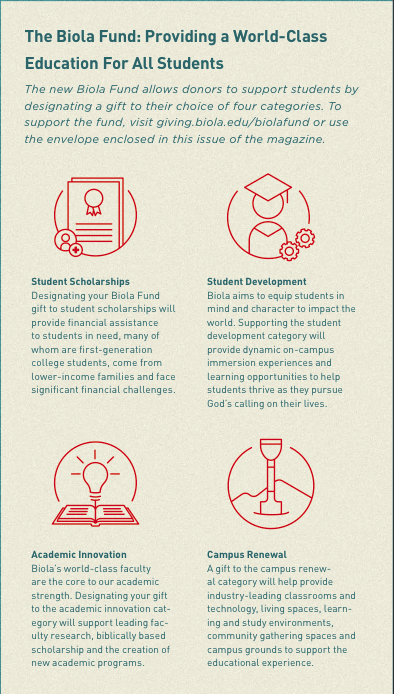 After five years and $214 million in donations, The Campaign for Biola University has officially come to an end. Through the generosity of Biola's supporters, the university's ambitious fundraising goals were not only met, but dramatically exceeded.
Now, as a way to continue the momentum begun by the campaign and to meet the ongoing goal of providing a world-class education for all students, the university is celebrating the creation of a new giving opportunity.
The newly relaunched Biola Fund will offer a way for donors to provide the most effective and most direct support for all of the university's students moving forward, said Amy Weaver, assistant director of annual giving. With an ongoing annual goal of more than $3 million, the Biola Fund is now the highest fundraising priority and will play a significant role in making Biola more affordable.
"We're thrilled to celebrate the completion of the campaign, but we know that the work of making and keeping Biola affordable for all students is never fully done," Weaver said. "The launch of our new Biola Fund is the answer to the ongoing question of affordability as we continue the work of carrying on the Biola tradition of biblically centered education for generations to come."
In giving to the Biola Fund, donors now have the option of choosing to designate their gifts toward one of four categories: student scholarships, student development, academic innovation or campus renewal. Formerly, the previous version of the fund allowed donors to support students more indirectly by offsetting annual operating costs. The change gives supporters a better sense of how their gifts are making a tangible difference and helping to keep tuition costs lower for every student, Weaver said.
And every gift counts, Weaver emphasized. More than 66 percent of the alumni and friends who support the Biola Fund on an annual basis do so with a gift under $250. Whether large or small, each contribution goes to work immediately with the gifts of others to sustain the Biola experience for all students, she said.
"We believe that every student should have access to a world-class, biblically centered and academically rich education," Weaver said. "The Biola Fund provides the necessary resources to sustain this unique experience for more than 6,000 current graduate and undergraduate students without compromising the integrity and value of a Biola education."