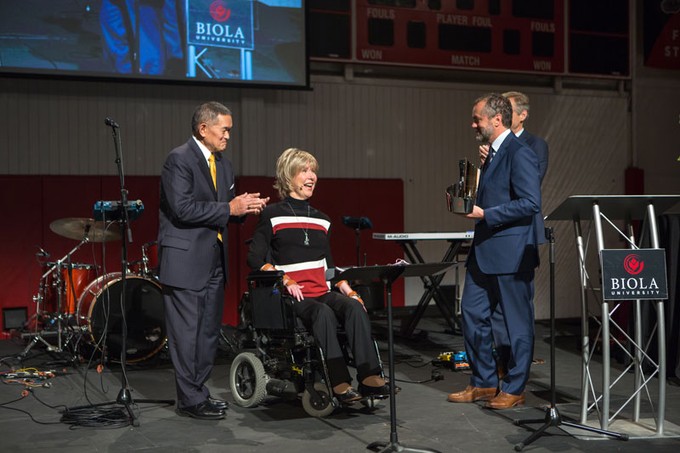 Joni Eareckson Tada, an international advocate for people with disabilities and the founder and CEO of Joni and Friends, became the fourth recipient of Biola University's Charles W. Colson Conviction and Courage Award this spring.
President Barry H. Corey and Biola trustee Stan Jantz presented the award on Feb. 22 as part of Biola's annual Founders Day chapel, honoring Eareckson Tada as someone who exemplifies a commitment to the unshakeable truths of a biblical worldview and a willingness to act on biblical convictions, however risky or challenging.
"Joni Eareckson Tada has long been a shining light in the Christian world, a woman whose life has been a testimony of conviction, courage and compassion," Corey said.
Eareckson Tada became a quadriplegic after a diving accident when she was 17. She now advocates for individuals with disabilities through her speaking, writing and work as founder and CEO of the Joni and Friends International Disability Center. Serving as the speaker that day, she shared how Christians can be advocates for the voiceless, especially in a society increasingly marked by a "culture of death" where many believe that one is better off dead than disabled.
"Society may be losing its heart but this is no time to get cranky that our country has been hijacked by a bunch of Darwinists," she said. "This is a season perhaps like none other — a wonderful season to influence our culture for the good and to showcase what the good news actually looks like."
The award was established in 2014 by the Colson family to honor the legacy of the late Charles "Chuck" Colson, a Christian leader and evangelist who founded Prison Fellowship and the Colson Center for Christian Worldview. Past recipients include religious freedom advocate Paul Marshall in 2016, humanitarian Baroness Caroline Cox in 2015 and Colson himself in 2014, awarded posthumously.