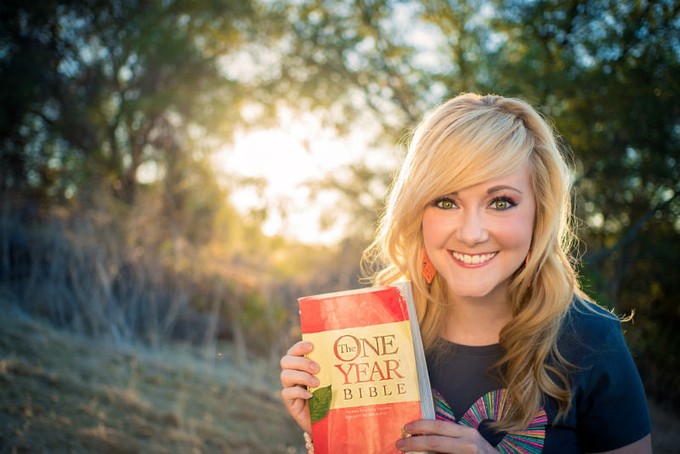 One girl. One year. 365 original songs straight from Scripture.
That's the YouTube description of "Sing Through the Bible," a daily video project from alumna Amy Treadwell Toy ('03). She and her husband, Brandon, whom she met through YouTube, have taken on the momentous task of writing, recording and posting an original song on YouTube every day of 2016 to go along with The One Year Bible. Each song's lyrics are pulled directly from Scripture and, combined with an original melody, provide catchy and sometimes zany ways to help kids memorize Bible verses.
Treadwell Toy started singing and acting at a young age and has been performing ever since. She sees her gift for acting and singing as a way to serve God while entertaining other people with her talents. Before "Sing Through the Bible," she had a simple YouTube channel where she would sing popular songs and connect with teenage girls across the country.
"If God gives you a creative gift, he means for you to use it. He gave it to you for a purpose," she said. "I knew I was supposed to do something with singing, and I just didn't know what, so I just decided to start singing on YouTube."
Treadwell Toy was diagnosed with fibromyalgia at a young age, and during a particularly long flare-up of the disease, she began reading The One Year Bible. Through this process she caught the vision for "Sing Through the Bible." She dreamed of kids on their way to school listening to Bible songs, memorizing Scripture as easily as they learned songs on the radio or from their favorite television show. She wanted to create something that would make family devotionals easier and more exciting.
Treadwell Toy first got the idea in 2013, but it wasn't until the end of 2015 that she knew it was time to take on the challenge. "Sing Through the Bible" has been a collaborative effort with her husband, Brandon, who handles the filming, editing and sound of each video. She quit her job as a real estate agent to work on this project full time while her husband continues to work as a freelance videographer. They receive funding for the videos and personal needs through a crowd-funding site called Patreon.
"It's forced us to rely on God so much and it's so exciting to see God in such a tangible way. He is present in every single step," she said. "I don't feel like I'm pursuing my dreams, because I wouldn't have dreamed this up. I feel like this is me being obedient. I feel like this is God calling me to do something and I said yes."