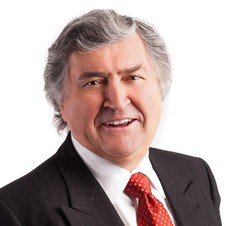 On May 27, Biola University awarded its third Charles W. Colson Conviction and Courage Award to Paul Marshall, a religious freedom scholar and journalist who recently co-authored the book Persecuted: The Global Assault on Christians, which highlights the growing problem of religious persecution across the world.
Marshall is a senior fellow at the Hudson Institute's Center for Religious Freedom and the author and editor of more than 20 books on religion and politics, as well as articles in such publications as The New York Times, The Wall Street Journal and The Washington Post.
Marshall is one of the world's most outspoken public intellectuals on the importance of religious freedom, not just as a humanitarian matter, but as an idea that is at the core of civil liberties, political liberties and human welfare. The Colson Award was presented to him at Biola's undergraduate commencement ceremony, where he also delivered the commencement address, "I Make All Things New."
Inspired by Colson's legacy of Christian service, discipleship and evangelism, the Colson Conviction and Courage Award is an annual award given by Biola to Christian individuals who embody a demonstrated commitment to the unshakable truths of Scripture and its application in all areas of life (conviction) and a willingness to act on biblical convictions in a bold and yet compassionate manner, however challenging or unfashionable it may be (courage).
Last year's Colson Award recipient was Baroness Caroline Cox of Queensbury, a British humanitarian and House of Lords member. The inaugural award was delivered posthumously in 2014 to Charles Colson himself.