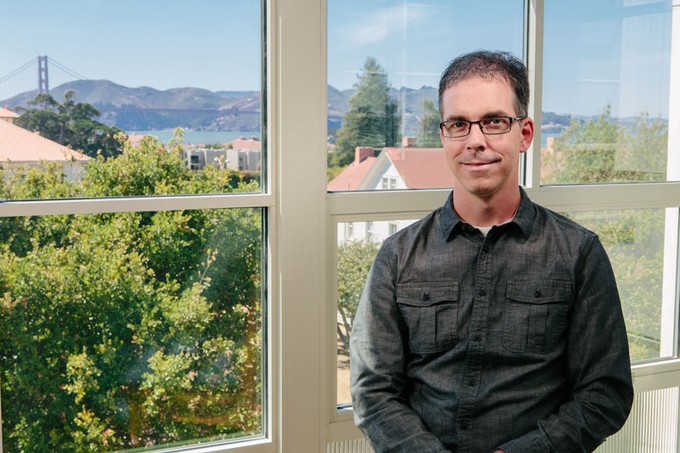 With the release of The Force Awakens this past December, the building of Star Wars lands at Disney theme parks and the development of at least five more Star Wars-themed movies, the Star Wars galaxy has never been more expansive or interactive. And one Biola alumnus is right in the middle of it all.
Rob Bredow ('94), whom Variety described as "one of the most respected technologists in Hollywood," was recently appointed chief technology officer for Lucasfilm. Bredow also runs a new media group called ILMxLab for Lucasfilm and Industrial Light and Magic, a new division devoted to creating virtual reality, augmented reality and other immersive experiences to supplement the cinematic Star Wars world. Bredow's team combines expertise in story, technology, sound and visuals to make new experiences "that no one has ever made before," he said.
"Getting to do work at ILMxLab is kind of a dream job," he said. "Not only is it Star Wars, but it's also innovative technology, artistic work and story work all combined."
Bredow says his work in this lab feels like visual effects did 25 years ago, pushing boundaries of what is possible with new technologies. Figuring out how to tell stories in virtual reality worlds is thrilling but challenging, he says, because there is little precedent.
"The truth is we don't really know exactly how to do it, but we've got the best people in the world to figure it out with us, so that's pretty fun," he said.
Being on the cutting edge of technology and visual storytelling has characterized Bredow's professional life for more than two decades. After studying radio/TV/film at Biola, Bredow worked for a company called VisionArt, writing new programs and creating computer graphics for shows like Star Trek: Deep Space Nine and movies like Independence Day and Godzilla. He then moved to Sony Imageworks, where for almost 15 years he worked in various roles related to computer graphics and visual effects. At Sony he worked on films like Stuart Little, Castaway and Anger Management. The Polar Express in 2004 was his first job as digital effects supervisor, followed by Surf's Up (2007) and Cloudy With a Chance of Meatballs (2009), where he served as visual effects supervisor.
Bredow left Sony last year and relocated to the Bay Area to work for Industrial Light and Magic at Lucasfilm. He began as a visual effects supervisor but was soon tapped to head up the advanced development group in the new media business.
Bredow says his time at Biola helped him develop the right priorities that have allowed him to flourish in the entertainment industry.
"I have seen people through my career who live a little bit more in fear, who are worried about saying the wrong thing in the wrong meeting, and maybe don't say something that needs to be said, because they're worried about getting fired," he said. "That's just never been my focus. I feel like truth has value, which I learned at Biola for sure."
Bredow said he's never been afraid of speaking truth reasonably and fairly, and that if it ever caused him to lose his job "then it wasn't meant to be anyway."
"It's kind of remarkable how much you can stand out if you are just looking out for everybody's best, and if you are speaking without fear," he said. "It can go a long way."