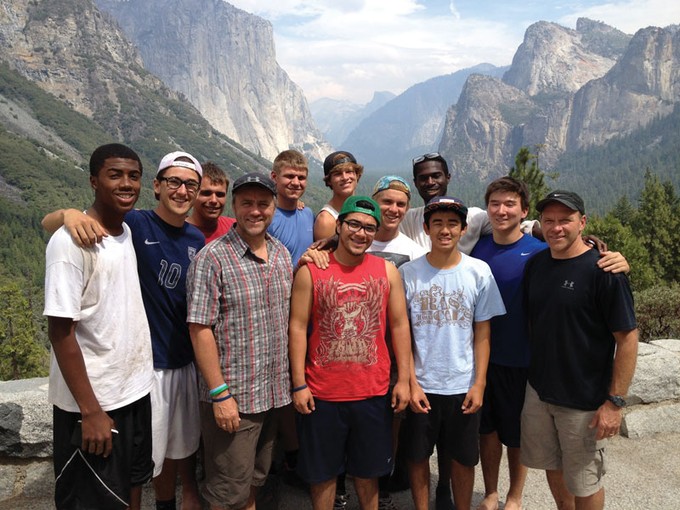 Someone recently told me Christians need to stop using the journey motif because it's tired and hollow.
I get it, in part. Platitudes about "life is a journey" without some deeper meaning start sounding fluffy. I've been guilty of this, having grafted the "journey" metaphor into some of my addresses to incoming parents and students. Then, a few years ago, I decided to put some grit behind my metaphor.

I invited nine Biola freshmen to go on a weekend journey with me to Yosemite National Park. I asked one of my lifelong friends to join us, as well as Biola's golf coach, a certified hiking guide. If a journey is more perseverance than painlessness, the hike with these nine young men had to be rigorous. We needed to sweat and feel the aches in our calves from the ascent and the pain in our quads from the descent. Full backpacks would add to the strain, as would the 107 switchbacks on the sun-exposed mountain trail in late August. We'd cook over open flames and filter our water from the nearby creek.
As each student told his story over the course of the weekend together, I listened deeply. I thought if I could get to know these nine new students, I would know far better the 900 others in our freshman class. By the time we hiked down to the valley for the long drive back to Biola, I knew once more why I love my job so much.
What began in 2009 when I first took this hike into the mountains has continued every year, today numbering over 50 students who have journeyed with me into Yosemite. Year after year, these students who are pitching their tents in the newness of their journey to Biola have reminded me of the sacred calling we have as a Biola community to give our best to enable the rising generation of Jesus followers to thrive on their journey.
Their stories are remarkable, and their diversity is rich. A student from inner city Los Angeles hiked with a student from a rural Kansas town one-sixth the size of Biola. Accounting majors and art majors and those who are still trying to figure the "main" thing out plodded together up the Sierra Nevada Mountains. Some of these first-year journeymen were from broken families, some were raised in missionary homes, some were intercollegiate athletes, and some needed help carrying their packs up the trail.
Daniel came one year, a film major born into a polygamous Mormon family before his mother took her children away and was welcomed by a Dutch Reformed Church in Salt Lake City. One year I hiked with Jose, a Colombian refugee whose family settled in Los Angeles, where they struggled to get by. Peter was raised in one of the most expensive ZIP codes in America. Marcos was homeless through some of his high school years. Tyler is now married to a Biola graduate and is finishing his Biola engineering degree in partnership with the School of Engineering at NYU. Samuel was adopted from a Bangalore orphanage by a Colorado couple. He plans to be a physician, returning the compassion his doctors in India showed him.
As we hiked, wonderful stories emerged, stories of courageous students who want to make a difference in their world. They want to overcome big challenges, and they want to live into audacious dreams. And as these students separate from their families to begin a new leg of their journey at Biola, I marvel at the potential each one has — as do thousands of other Biola University students — to honor God with their lives, willing to be redemptive voices to the brokenness of our world.
Before we break camp and begin the long trail down, we find a bunch of stones and build an altar. On each new leg of the journey, we commit it — in all of its uncertainties, surprises and complexities — to God.
What I experience in small scale on the Yosemite hike I experience in full scale in our Biola community. This year we welcomed our largest freshman class in history, reaching a total university enrollment of 6,358 students on their journeys together at Biola. It is our sacred trust as faculty, staff and leaders to come alongside these journeyers and build in them the intellectual, spiritual, relational, character and leadership competencies that will carry them for a lifetime.
---
Barry H. Corey is the eighth president of Biola University. Visit his office online at biola.edu/president, on Facebook at facebook.com/presidentcorey and on Twitter at twitter.com/presidentcorey.