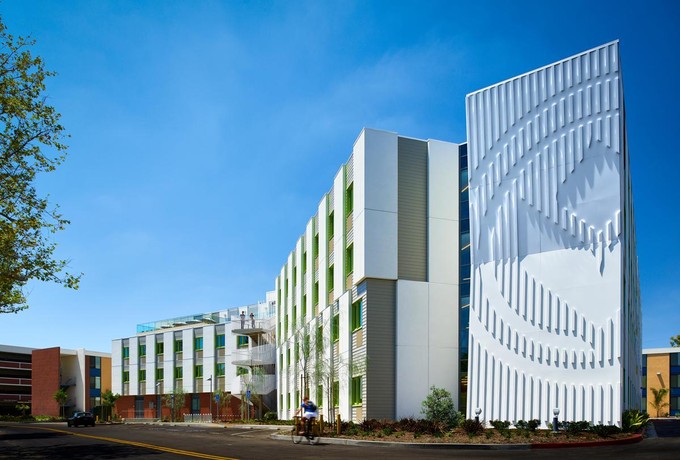 This fall, 318 Biola students have the privilege of being the inaugural residents of Blackstone Hall, the newly minted residence hall named after Biola's first dean, William E. Blackstone.
Located on the north end of campus near Sigma, Blackstone provides the most affordable rooms on campus — 160 of them, spaced across two all-male and two all-female floors — and is heavy on community spaces both inside and outside the building, including a new outdoor courtyard. The residence hall is also Biola's first to include an in-house eatery, which specializes in breakfast-all-day entrees like waffles and made-to-order breakfast burritos.
Due to its efficient design, use of sustainable building materials, recycling of construction waste and designated parking for clean air vehicles, Blackstone is on track to The Birth of Blackstone New residence hall features whiteboard walls, breakfast-themed cafe become Biola's first facility to receive LEED Gold certification from the U.S. Green Building Council.
Other notable features include a multipurpose room for meetings and lectures, a fourth-floor terrace and natural gas barbecues (a first on Biola's campus). Lounges throughout the building feature whiteboard walls for doodling, note-taking and community artistic expression.
Junior Tebraie Johns, a resident assistant on Blackstone's "UNITED" floor, said the first semester of living in Blackstone has been "delightful and distracting."
"Delightful because of the freshness and cleanliness of the building," he said, "but distracting because of the smart 60-inch TVs on almost every wall, equipped with Netflix and YouTube! So basically nothing is going to get done, but by the grace of God we will overcome!"