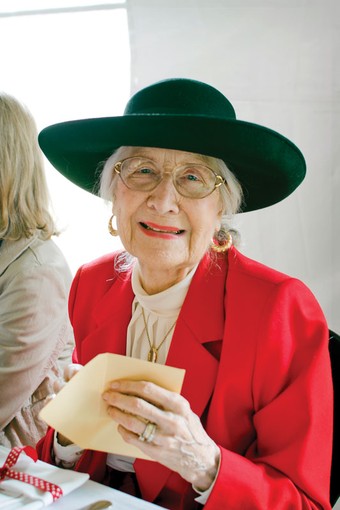 In 1973 Virginia Moats was advised to purchase 200 shares of stock in a new company with an unknown product called "WD-40."
Following the death in 2001 of her beloved husband, Wendell Moats, Virginia wanted to honor his memory in a meaningful way. After learning that Biola planned a new business building, Virginia felt she could best honor Wendell's life and successful business career by helping this project. Wondering what she could give, Virginia remembered the WD-40 stock, forgotten in a safe deposit box for over 30 years. During that time, the stock had grown to 17,800 shares, worth a significant amount. She offered it for the School of Business campaign, and Moats Lecture Hall was born.
That significant gift is just one example of Virginia's long and faithful relationship with Biola. Over the years, Virginia, now 102 years old, has given generously to support student scholarships. When she discovers valuable antiques or jewelry in her home that are collecting dust, she thinks in terms of how many scholarships they could fund. One time she found a solid gold bracelet she had forgotten about and decided that instead of staying in a desk drawer, it should go to Biola.

"I knew it would pay for a couple scholarships," said Virginia, who was honored by Biola with the 2013 Anna Horton Ruby Award for Lifetime Commitment and Service.
Virginia, who first learned about Biola in the 1970s from friends in a Bible class, cares deeply for Biola students and loves supporting them, meeting with them and — as often as she can — having them visit her home in La Jolla, Calif.
"There's a light in every student that shines, and it's been a great joy to support them," said Virginia, who resonates deeply with Luke 6:38. "The more you give, the more you receive, in abundance. This has become so true to me over the years."
At 102, Virginia is still going strong and supporting the work of Biola University, an institution that is only five years her senior. She attributes her longevity to the never-ending adventure of following the Lord and joining with him in service, supporting the worthy work of those on mission for him.
"If you're happy in the Lord, you don't feel old," she said. "You're excited because every day is wonderful. Adventures don't stop."