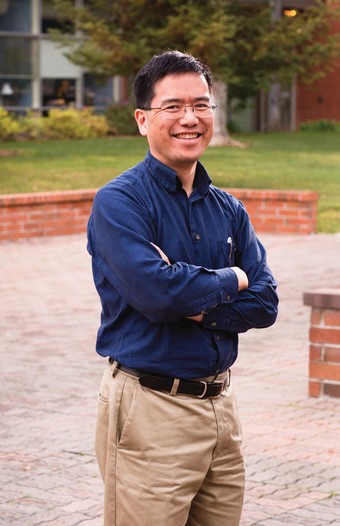 If you put an ichthys sticker on a hammer, does that make it a "Christian hammer"?
 That's a question that helped Albert Yee, associate professor of engineering, think through the integration of his Christian faith with the field of engineering.
Like a hammer, engineering is less theoretical than "simply functional," said Yee. "So what makes a hammer Christian is not the hammer, but the hand that wields the hammer."
The centrality of integration and "thinking biblically about everything" is one of the things that drew Yee to take a faculty position at Biola last fall, after having taught at William Jessup University in Rocklin, Calif.
In his physics and engineering classes at Biola, Yee hopes to teach students to think well, to wrestle with questions and learn to defend their answers.
"I'm in the business of raising up shepherds, not sheep," he said.
Yee also hopes to debunk the notion that there is a conflict between science and faith, arguing to the contrary that "they can be married quite well together."
Prior to becoming a professor Yee worked as an engineer for robotics company Fanuc, genome-mapping companies and medical technology companies like Becton Dickinson and Thoratec, which makes artificial hearts for those suffering from severe heart problems.
"The thought of building something that can radically change a person's life is so compelling to me," said Yee, who has a Ph.D. from the University of California, Berkeley, and a B.S. and M.S. from Stanford University.
Yee's current research interests include the concept of "appropriate technology," which seeks to find technological solutions that are locally sustainable, such as water purification technology for a developing nation that does not require importing expensive technology. He's applied for three summer research grants to work with Biola students on projects that look at the use of recycled high-density polyethylene (HDPE) for 3-D printing, the use of EEG and EMG signals to power prosthetic limbs, and the use of xylem in tree branches to provide cost-effective water filtration.
There is a critical need for excellent engineers who are also grounded in a Christian worldview, Yee said.
"As technology improves, we are able to do a lot to save someone's life or improve their quality of life," he said. "But who gets to decide who gets that technology and who doesn't? When is technology misused? I want a Christian speaking into those questions."