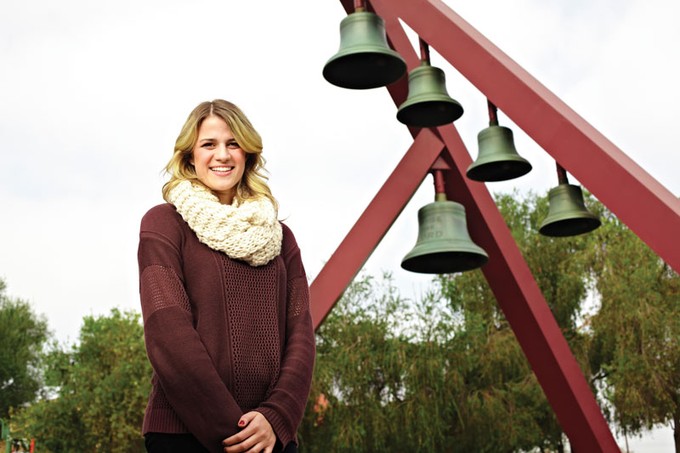 During her time at Biola, Sarah (Sjoberg '14) Evans balanced several jobs during the school year and graduated a semester early to save money. Affording Biola was a challenge — one she couldn't have overcome without scholarship support and the generosity of donors. That's why she feels passionate about "paying it forward" to help other girls have an opportunity for education.
"My education was so valuable to me and I wanted to provide that opportunity for some- one else," said Evans. Out of this desire, Infinite for India was born.
Infinite for India is the online shop where Evans and a network of knitters across the country sell handmade infinity scarves. Evans, who majored in international business at Biola and currently serves as a marketing manager with Outreach, Inc., donates the majority of profits from the scarves to Harvest India Public School, a school for girls in the Guntur District of India.
The idea for Infinite for India first came to Evans when she was home for Christmas break during her freshman year. She recalls praying for a tangible way to love others when the idea of knitting and selling infinity scarves to support the school in India came to her.
In the first holiday season, Evans and her knitters raised about $1,500 for the school, an amount that goes a long way in India. She is still in awe of how God blessed the efforts to support Harvest India Public School.
"I never expected this to be bigger than the two scarves I sold online, but God has totally blessed it," she said. "We sold 40 scarves in a week and a half during the Christmas season!"
Evans' dream is that out of the opportunity she was afforded to learn about business and service at Biola, she can help many others find opportunities for themselves.
"Knowing the need spurs me on to give more of myself and my time. I wouldn't have been at Biola without donors, and I want to empower other girls and give them the tools to go to school too," she said. "I have dreams of helping people the rest of my life and my time at Biola totally shaped that."