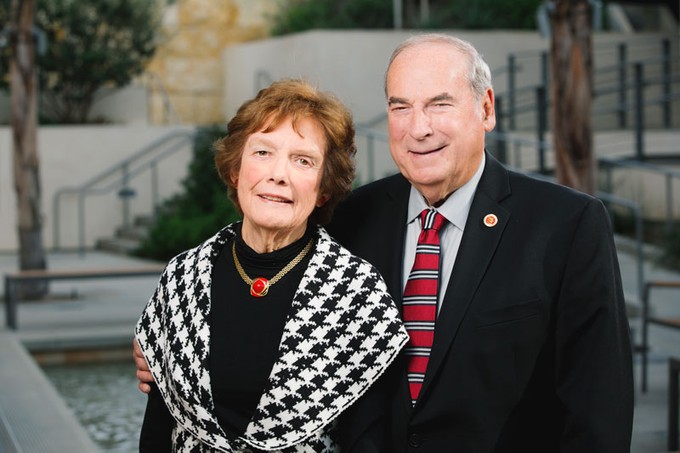 Dave and Shirley Karnes have been investing in Biola students for nearly three decades. To date, 23 students (and counting) have received help from the couple for needs like tuition, housing, computers and new musical instruments.
But the Karneses are more than just financial benefactors for these students; they are surrogate parents, grandparents, friends and mentors. They become family to students, taking them out for meals, inviting them on road trips and vacations, walking with them during post-Biola life.
Violinist Simona Talberga ('09) is one example of a student whose life the Karneses have changed. After meeting her on a trip to Latvia in 2005, the Karneses became Simona's "American parents," helping her afford to attend Biola's Conservatory of Music and then the Longy School of Music in Boston for a master's degree. Simona spent summers with the couple in Lake Almanor in Northern California, and when she married, Dave walked her down the aisle. Earlier this year, the Karneses traveled to Florida to meet Simona and her husband's recently born baby, Elliot.
The Karneses have given generously to many fundraising needs at Biola, but for them, the students — the Biola "product" — are always the top priority.
"These students are the future of our country, the future of the church, the future of everything," Dave said. "The quality of Biola students and their desire to serve the Lord in everything they do ... that is what motivates us to give."
The gap between a student's desire for a biblically centered education and their ability to afford it is something Shirley experienced personally as a Biola student in 1957. Her family didn't have the money to pay for more than one year of tuition at Biola, then located in downtown Los Angeles. But Shirley's brief Biola experience impacted her greatly, and after reconnecting with the university in the 1980s and '90s, she and Dave quickly became some of its most committed supporters.
Wherever they are in the world, the Karneses are on the lookout for the next student God brings their way to help.
At a gift shop in Lake Almanor, while chatting with a young clerk, Dave learned of a cellist at Biola named Sarah. She soon became "like a granddaughter" to the Karneses, who supported her as a student and have kept in touch with her even after she married and moved to Washington. Or there was the mom of a grade-school girl in Amsterdam whom the couple befriended. Years later, when the girl was looking for colleges in America, the Karneses spent the day showing her around Biola's campus. Of the five Christian colleges she visited, the girl picked Biola and is now a sophomore. In March, the Karneses visited her on campus for — what else — Biola's Grandparents Day.
As the number of Biola students who call the Karneses family keeps growing, Dave and Shirley insist that it's the Lord, not them, who is making a difference.
"The Lord puts these students in our path," said Shirley. "The Lord is who takes care of them."