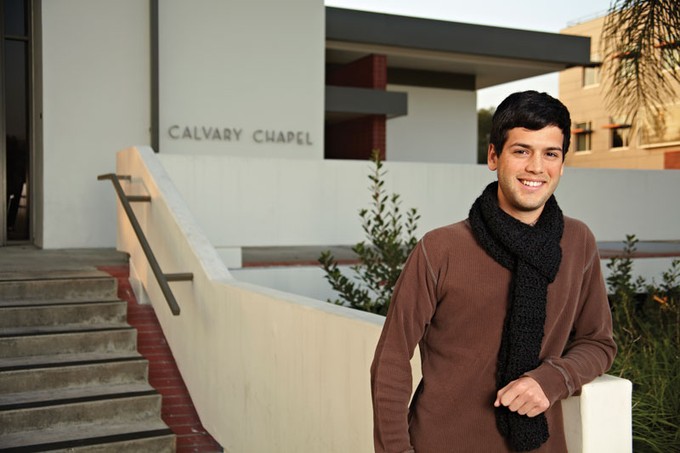 As he counted down the days to his graduation in May 2015, biochemistry major Marcus Olivares-Perez ('15) marveled at the many ways Biola had changed him.
For starters, Biola is where he met some of his closest friends and his wife. As co-president of the Health Careers Club (HCC) and treasurer for the American Chemical Society (ACS) club, he learned to lead. As part of B.E.A.T. (Biola's Ethnic Advancement Team) he learned to share his testimony with others and witnessed how "God makes beautiful things out of ashes." Through living on cam- pus, he learned what it meant to be part of a community. Through Old Testament, he learned about God's faithfulness in the past, present and future. His science classes reminded him of the wonder of God's creation.
One of the biggest things Biola taught him, he says, is boldness.
"Biola has helped give me courage in my faith to share what I believe with my biological family," Olivares-Perez said.
The complexity of "family" has been a big part of his journey. He grew up with a rough home life, living with his sister in Sacramento after his mom moved away. There was heavy drug use all around him and schoolwork often seemed less pressing than survival. Things changed in high school, however, when he befriended a Christian family that adopted him as their own son, brought him to church and introduced him to Jesus.
"I realized that it was God and his love for me through this family, and my life changed forever," said Olivares-Perez, who first heard about Biola through his adopted father but initially thought it would be impossible to attend because of the cost. Through various financial aid awards and scholarships, the impossible became possible.
"Somehow it worked out and all of my costs were covered," he said. "It has been really exciting to trust and know that he is God and that he is good."
As Olivares-Perez moves on from Biola and looks to a future in medical school, and perhaps medical missions, he will look back on Biola as an invaluable and grace-filled experience of preparation.
"There will never be another time in my life where I am surrounded by so many people who are eager to learn, living in such close quarters, all here in some varying degree to know God well," he said.