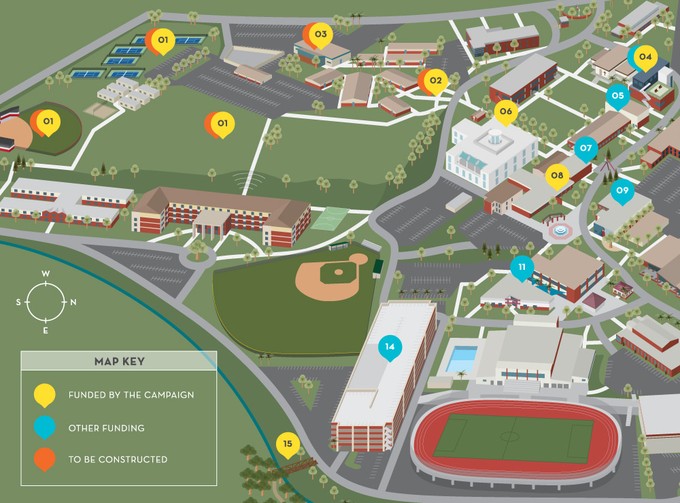 Over the past five years, Biola and its supporters have invested tens of millions of dollars to transform our La Mirada campus — completing more than a dozen major building projects designed to enhance education, research, community life and the overall student experience. With new buildings, classrooms, offices, athletic complexes, research centers and community gathering places, the university is more equipped than ever to educate students who will impact the world for Christ.
And we're not finished. The Campaign for Biola University will allow the university to complete additional much-needed facilities — most notably the Alton and Lydia Lim Center for Science, Technology and Health.
Here's a visual guide to what's been done and what's still on the way.
1. Athletics Enhancements
The southern edge of campus is getting into great shape for Biola's athletes. Freedom Field, home of the softball team, received major upgrades in January 2013 with new dugouts, bullpens, a team room and a spectator area. And fundraising is currently underway for further upgrades to the field, as well as a new track and field, and completion of a tennis center with a clubhouse and sunken stadium court.
Expected completion: Pending funding
Funding: The Campaign for Biola University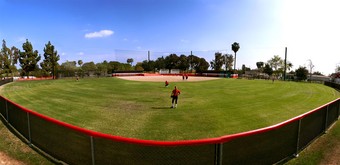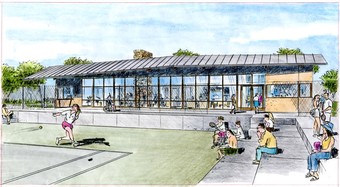 2. Alton and Lydia Lim Center for Science, Technology and Health
The Alton and Lydia Lim Center for Science, Technology and Health —the centerpiece facility of the comprehensive campaign — will take Biola's science programs to the next level and beyond. With 30 laboratories, three classrooms, research spaces, faculty offices, a rooftop observatory and all-new, cutting- edge technology, the facility will greatly enhance Biola's ability to prepare the next generation of scientists, researchers, health professionals, engineers, mathematicians and technology developers.
Expected completion: Tentatively scheduled for a spring 2018 occupancy
Funding: The Campaign for Biola University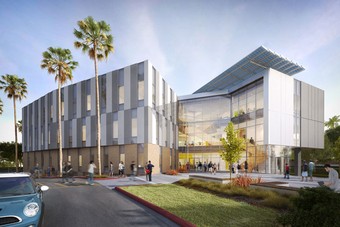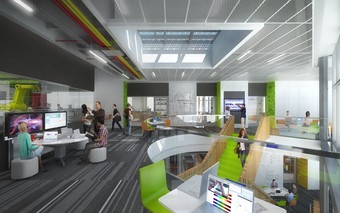 3. Cinema and Media Arts Production Center
Biola's media production center experienced major renovations in recent years. This year, a $2 million gift provided additional state-of-the-art equipment for future filmmakers in the cinema and media arts program, a new screening room, an industry relations department within the program, and improvements of the studio complex. The center features sound stages, an equipment room, editing bays, offices and a convergent newsroom and instructional lab, serving more than 300 students.
Expected completion: Extended through 2016
Funding: The Campaign for Biola University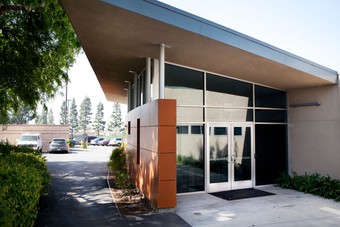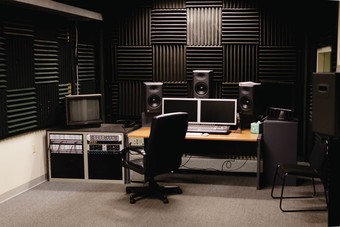 4. Talbot East
Thousands of students take Bible classes every year inside the new home for Talbot School of Theology, which includes 34 offices, eight classrooms, two conference rooms, Haqq Plaza, the Fred and Ruth Waugh Prayer Chapel and the Andrews Banquet Room. Among the building's most notable features are two large Scripture windows, the Riady Rooftop Garden and walls lined with "Jerusalem stone" quarried in Israel.
Expected completion: October 2011
Funding: The Campaign for Biola University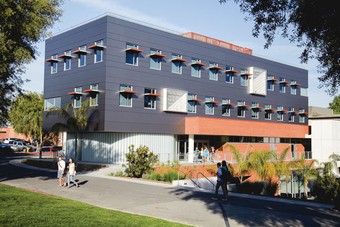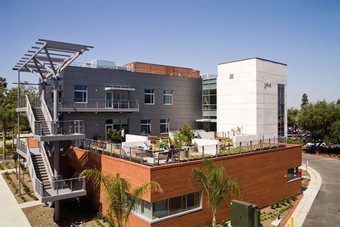 4. 'True Vine' Sculpture
"True Vine," a twisting, bright red sculpture made from bronze-cast apple tree limbs, is the work of artist Theodore Prescott. Located outside of Talbot East, the work of art is inspired by John 15 — a passage also found on the building's Scripture windows — which speaks of Jesus as the true vine in whom we, the branches, are called to abide.
Expected Completion: February 2015
Funding: The Long Family Foundation
5. Center for Christian Thought Facility
The newly remodeled space in upper Rose Hall is designed with research and collaboration in mind. In addition to an ornate conference table where Center for Christian Thought research fellows and visiting scholars hold regular discussions, the space offers a comfortable lounge area, kitchen, offices and inspiring decorative touches.
Expected Completion: February 2012
Funding: University plant fund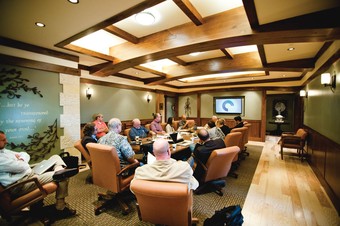 5. Mosaic Cultural Center
This elegant new space in Rose Hall offers students, faculty and friends a place to interact, learn about cross- cultural issues and to gain intercultural experience. Along with a conference room, kitchen and main community space for poetry nights, lectures and club meetings, it houses offices for off-campus programs, Multi-Ethnic Programs and Development, and the Center for Cross-Cultural Engagement.
Completed: April 2013
Funding: University plant fund

6. Heritage Café
Biola's newest dining option is perfect for those who want their mochas with a side of memorabilia. Located just off the library's lobby, the attractive Heritage Café is filled with historical photos and artifacts that allow visitors and library patrons to connect with Biola's past as they enjoy their coffee, juice, blended drinks and "grab and go" food items. A spacious seating area offers a place to relax or study.
Completed: April 2015
Funding: Bon Appetit Management Co. and its parent company, Compass Group; The Campaign for Biola University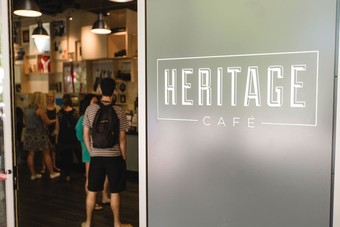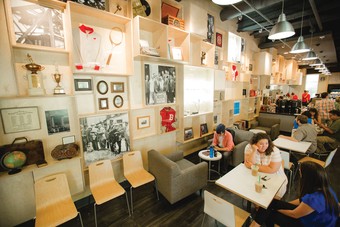 7. Earl and Virginia Green Art Gallery
Biola's art gallery was renovated, renamed and rededicated to coincide with the launch of the Center for Christianity, Culture and the Arts in 2013. Named in memory of the parents of Biola supporter Roberta Green Ahmanson, the gallery hosts contemporary art exhibitions from students and professional artists.
Completed: September 2013
Funding: University plant fund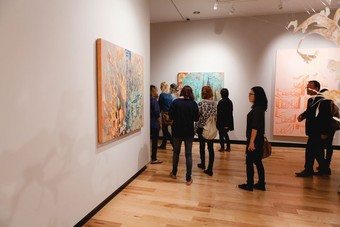 7. 'Spirit of Christ' Sculpture
"The Spirit of Christ," by artist Tom Tsuchiya, was inspired by the story of Jesus feeding the 5,000 people with five loaves and two fish. The fish-shaped sculpture is made up of 12 metal compartments — each etched with the name of one of Jesus' disciples — that open up to house soup cans during food drives.
Completed: September 2014
Funding: The Long Family Foundation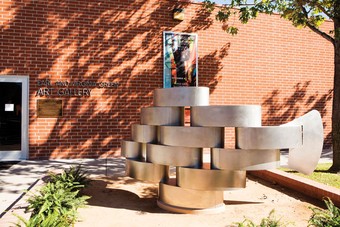 8. Marshburn Portico
Marshburn Hall — home of Cook School of Intercultural Studies — received a major facelift with the development of the "Marshburn Portico" to accommodate the school's growing needs. Among the additions were the Robert and Eleanor Bowman Missions Media Center and five new faculty offices, as well as other renovations.
Completed: August 2011
Funding: The Campaign for Biola University; Far East Broadcasting Co.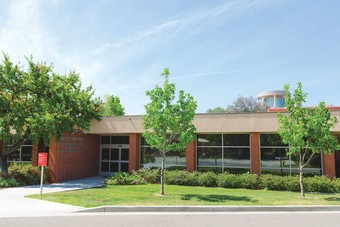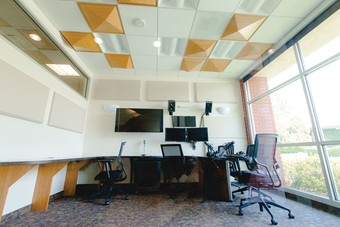 9. Bradley Annex
The Bradley Annex, a 2,050-square-foot space connected to the existing science building, Bardwell Hall, received a significant makeover, resulting in five new offices, a classroom and a multipurpose lab. The much-needed remodel created more room for Biola's growing science programs as they await construction of the Alton and Lydia Lim Center for Science, Technology and Health.
Completed: February 2013
Funding: University plant fund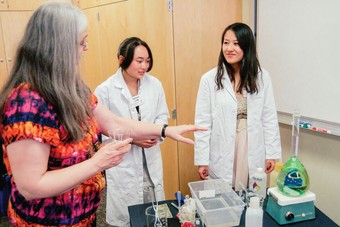 10. Café Expansion
The cafeteria — or Caf, as it's better known — is more inviting than ever since the opening of the "Sky Deck," an enclosed outdoor eating area with room for about 120 students. The newly expanded patio offers gentle breezes and nice shade from the sun, along with heaters that can be fired up on the rare cold day.
Completed: April 2013
Funding: Auxiliary Services (income from conferences, housing and meal plans)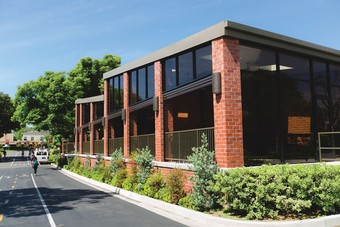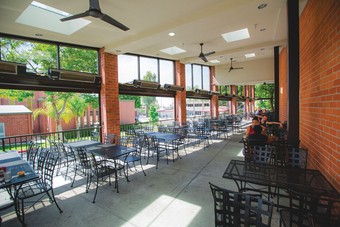 11. Biola Store
To meet the changing needs of today's students, the Biola Bookstore got rid of interior walls, outdated decor and even part of its name — becoming, simply, the Biola Store. The spacious new store is filled with books, apparel, supplies and lots of Biola red, with walls lined with historical photos and quotes from Biola's founders and past presidents.
Completed: November 2013
Funding: Follett Corp.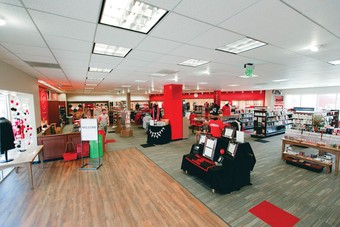 12. Emerson Hall Renovation
Biola's oldest dorm is getting a new lease on life. After more than 55 years, Emerson Hall was officially retired from its duties as a residence hall at the end of the spring 2015 semester in order to be renovated and transformed into much-needed office space. The newly remodeled Emerson Hall will provide 67 offices, primarily for humanities faculty and staff.
Completed: January 2016
Funding: University plant fund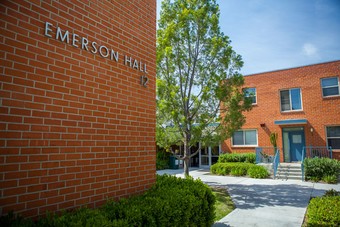 13. Blackstone Hall
The new four-story residence hall adds 160 rooms of living space for Biola's growing residential population, along with its very own café on the first floor. Situated at the northern end of campus, the environmentally friendly hall features several community lounges, an outdoor courtyard, a rooftop terrace and plenty of technology-friendly study spaces.
Completed: July 2015
Funding: Bonds, to be paid off through business operation revenue from Biola's Auxiliary Services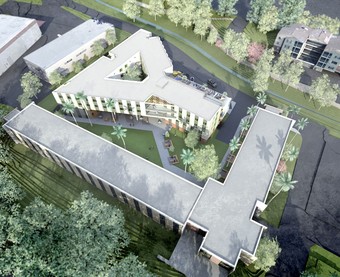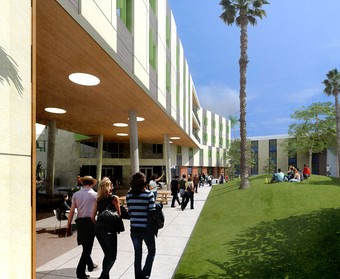 14. Parking Structures
As Biola's student body has grown to record sizes, so has the need for parking spaces — leading the university to build two five-story parking structures within the past several years. The first, next to the swimming pool, provided 780 spaces. The second, next to Alpha Hall, provided another 939. Finding a place to park has never been easier.
Completed: September 2011 and April 2014
Funding: Bonds, to be paid off through business operation revenue from Biola's Auxiliary Services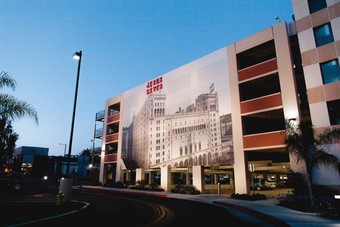 15. Kavalich Park
Tucked away on the eastern edge of campus, Kavalich Park gives students a place where they can get away from it all without ever setting foot off campus. Set on the last remains of publishing giant Andrew McNally's sprawling olive orchard, the park features rustic walk paths, a walking bridge, benches, picnic tables and an irrigation system to keep the trees healthy.
Completed: February 2009
Funding: The Campaign for Biola University