Bardwell's History

Bardwell Hall was previously the home for the sciences at Biola but when the Alton and Lydia Lim Center for Science, Technology, and Health building was constructed, the department moved and Bardwell was empty and no longer utilized. So, as development takes place on the project, the newly renovated space for the arts will be open to students by the Fall semester 2020. Renovation speed has boomed since they started!


Before Construction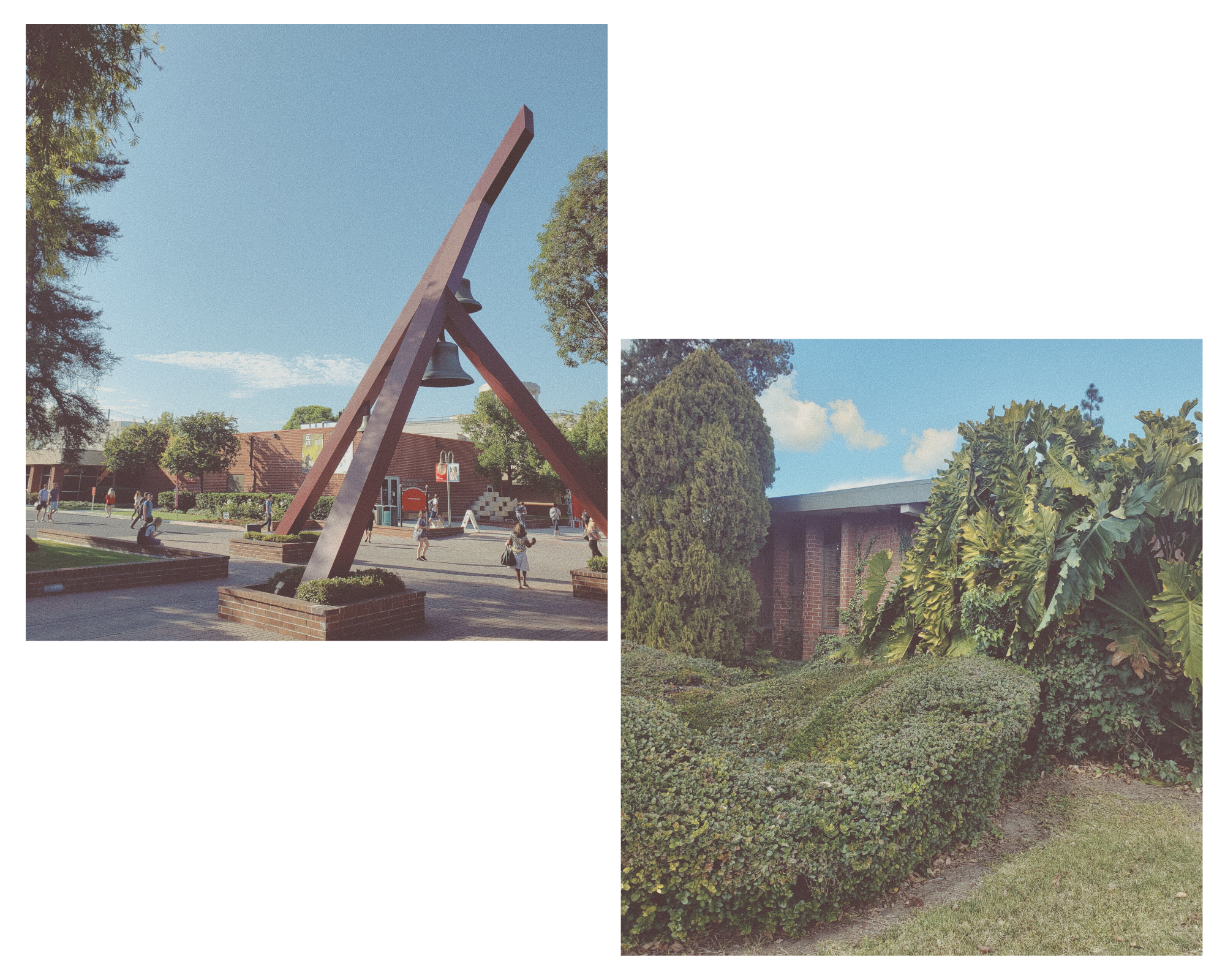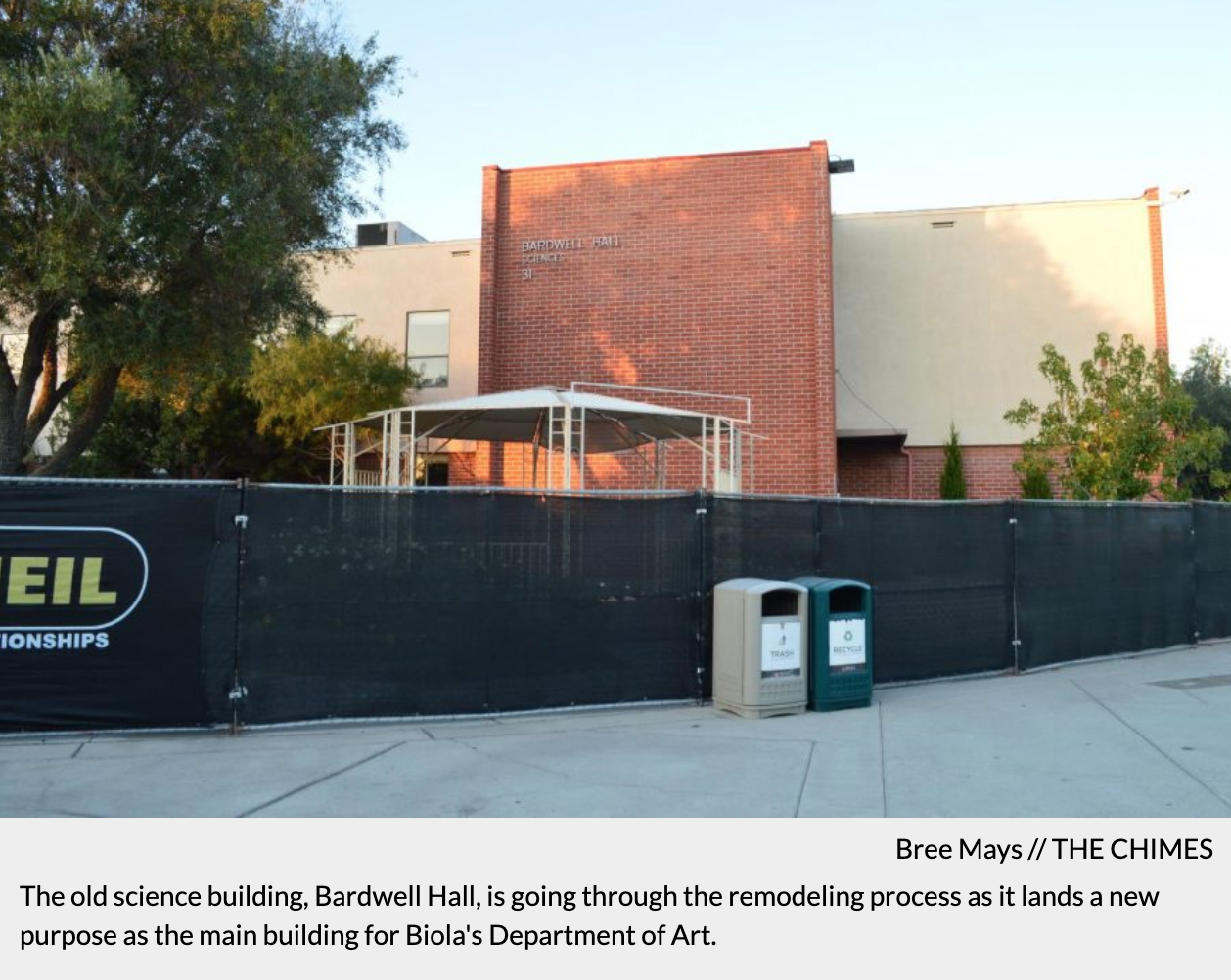 The New Art Building
As a Sophomore Studio Arts major, I am SO excited about a new home for Art. After spending the first half of my art education at Biola in our current art department, what better way to finish than with a whole new facility! I am one for a change in scenery. Our current location on campus is nice because of how close it is to lower campus and with it being a more secluded area, there's less foot traffic. An article on the new space is taken from Discover La Mirada California and the article says, "the art department is currently scattered across campus, with offices in the Grove, the Fine Arts Building, the Nineties Building, and Rood Hall. Due to the construction of the Lim Science Center and other department projects, the department has lacked a cohesive home to call their own. The renovated hall will nearly double the department's square footage and will feature a large student gallery as the signature space and formal entrance for the building. It will continuously showcase student work, as well as student-curated exhibitions. This will create numerous performance and exhibit opportunities for students in art, theatre, music and more."
I am grateful for Rood Hall and the home it's been for my art courses, but I cannot wait to be more central to campus in one of the latest buildings at Biola. It's kind of crazy how fast construction on the building has progressed. I remember sitting at the gazebo close by the building just last semester, but when I came back from home after the weekend, there were cranes taking down the trees and bulldozing the gazebo. I was surprised at how fast they were cracking down on the construction. When I walked past I even saw some of my art professors taking photos and recording the deconstruction. It was just a funny sight to see.
Remembering What Was
Even though the destruction of the gazebo commenced within a blink of an eye, that doesn't mean that memories weren't made there. My good friend Anna, a fellow blogger and Ambassafam member, remembers a beautiful moment when her parents, who both graduated from Biola, had their first kiss in the gazebo that was on the grounds previously. Here's what she had to say on all of that:
"My parents met on the first day of school in 1985 here at Biola in the first class they had together. They started dating their first year and actually had their first kiss in the gazebo located right outside Bardwell! My parents have talked about this gazebo all of the time and every time they come to visit they just have to point it out. When I heard that the gazebo was being torn down, I knew my parents were going to be heartbroken. So one day, while construction was going on, I stepped on the edge of the gate, peeked my head over the fence, yelled over the jack-hammering, and explained how important the gazebo was to my family. The construction man agreed to cut me off a piece of one of the beams/bars. At this point, I had a lot of people in the walkway watching me thinking I'm crazy. When he gave me the bar, people cheered, and I gave it to my parents for Christmas. They are my absolute best friends and I'm so glad I was able to give them something that they can look back on and be reminded of a sweet time in their lives: their first kiss!"
So even though new history will be made in the building to come, it doesn't mean memories weren't already made here. Thank you, Anna, for sharing those amazing moments with me. Here's to more community building and more moments to be shared!
What to Expect
With the new development, the renovated Bardwell Hall will include the following:
1,100-square-foot student gallery in addition to the current gallery on campus
40 individual student studio spaces
Outdoor art yard
Outdoor exhibition space
Rooftop terrace
5 large studio spaces for painting, drawing, photo lighting/documentation, new media, and interdisciplinary art
8 faculty/studio offices
2 computer labs
Photo darkroom/lightroom
Critique spaces
Zehavi Husser, my current art professor and the Department Chair of Art at Biola, had this to say on our website biola.edu/arts-at-biola, "As we celebrate our 50th anniversary, we invite you to join a vibrant community filled with gifted artists who are devoted to helping you develop your talents and cultivate your vision. Biola Arts offers to you not only excellent mentorship, inspired teaching and innovative practice, but it's also a place where you will be welcomed and valued — it's a place where you can finally belong."
Celebrating 50 years of art, how spectacular is that! These new changes will be such an advancement in my art education here at Biola and it is so encouraging knowing how much my school cares about learning in and out of the classroom while emphasizing the importance of creative hands-on learning for students. I know us students aren't the only ones looking forward to the new facility - my amazing art professors are too! This is something to really look forward to for all those applying for the Fall and interested in Art as a potential major or minor.
Closing Thoughts
I am really looking forward to just being in the new building. That rooftop terrace is looking like my kind of party. Art is so important for growth and development in education so I am so thankful that Biola is providing a new facility, not through tuition dollars but completely donor-funded! I'll be highlighting Art a lot this semester so be sure to keep an eye out for more information on all things art at Biola!
Here's a little quote for you to leave with:
"Art has a role in the education of helping children become like themselves instead of more like everyone else." - Sydney Gurewitz Clemens
Thanks guys for the read. See you around,
Noa