The job of an accountant is changing, the CPA exam is changing and the Crowell School of Business Master's in Professional Accountancy (MPAcc) is leading the way in meeting those changes.

Today's newly-licensed CPAs are expected to know more information than ever before. The demands of accounting today require richer skill sets, greater competencies and a deeper understanding of emerging technologies. Procedures that used to be performed by new CPAs are now either automated, outsourced, or carried out by paraprofessionals, and many duties that were once assigned to experienced staff are now being handed to those just entering the profession. Experienced accountants are now facing questions and responsibilities never dreamed of by their predecessors.

In recognition of the rapidly changing skills and competencies that accountants will need both today and in the future, the CPA licensure model is undergoing a serious revision. This means there will be a new Uniform CPA Exam in 2024.

In response, Crowell's MPAcc program has revised its core curriculum and will begin offering specializations in tax compliance and planning (TCP) and in business analysis and reporting (BAR). These revisions are in place and set to begin in Fall 2022.

"Not everyone has done this yet. We really prioritized it," said program director Phil Woodward. "I'm proud to say that we have a Master of Professional Accountancy program that's ready for the CPA evolution."

This change is one answer to the long-standing concern that business-school education often does not match business-world expectations. The Wall Street Journal notes that "companies hire thousands of business-school graduates every year only to spend months catching them up in the specific demands and skills of the job." These companies develop rigorous training programs to make up for "the lag that often exists between business-school curricula and the fast-evolving technological and data-analytical skills that they and their corporate clients require."

For example, even the main governing body for accounting, the AICPA, admits that "while survey data shows over 60% of accounting programs teach topics such as data analytics and IT audit, fewer than half teach emerging topics such as IT governance and cybersecurity, among others. Firms report that these topics are increasingly important to the profession."

Given how much the role of today's CPA has evolved, the governing boards (the National Association of State Boards of Accountancy and the American Institute of Certified Public Accountants) have updated the CPA licensure model. Their initiative, called CPA Evolution, is intended to position the profession for success now and in the future while ensuring continued public protection. The initiative was developed based on feedback from more than 3,000 individuals and organizations.

This feedback indicated widespread support for changing the CPA licensure model. The new model is designed to address the ever-expanding body of knowledge expected of new CPAs, without increasing exam and education requirements to an unsustainable level or creating multiple CPA licenses.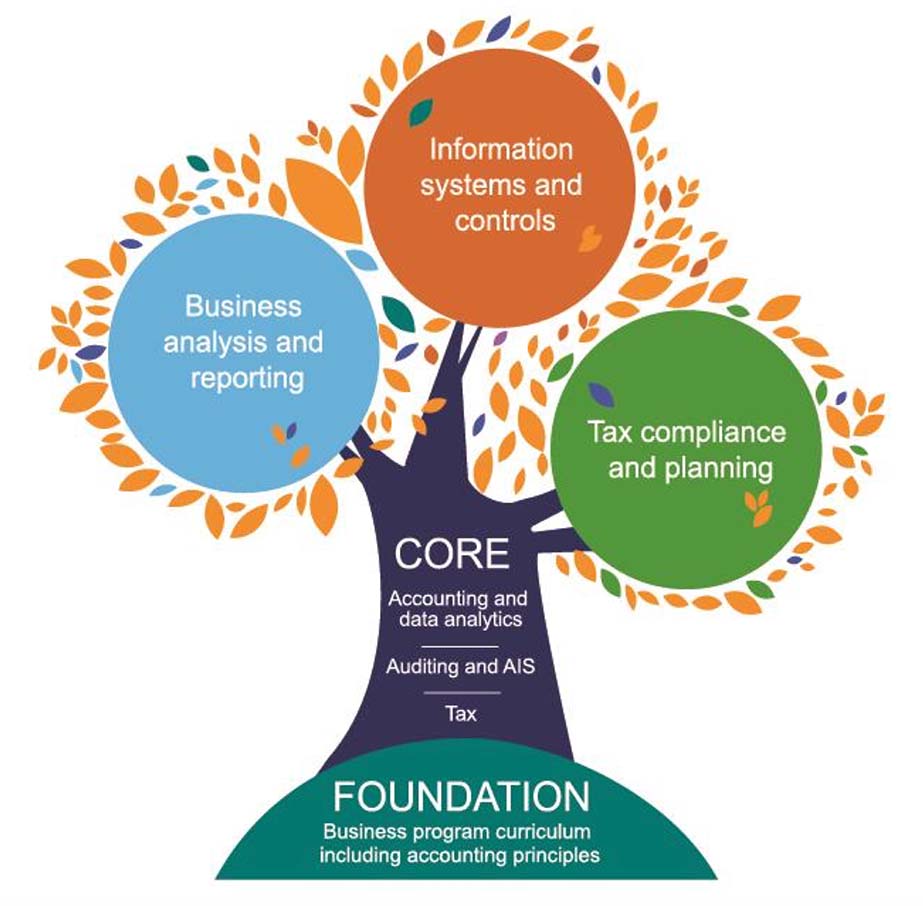 Under the new model, all CPA candidates will take a deep rooted and robust core in accounting, auditing, tax, and technology. Then each candidate will choose a discipline in which to demonstrate greater skills and knowledge. Regardless of the discipline chosen, this model leads to full CPA licensure with the same rights and privileges as any other CPA; thus, CPA's would still be able to practice in any area.
Accounting and financial considerations are central to nearly every decision made by an organization, shared Woodward.

"More than ever, the business world needs effective accountants," Woodward said. "As regulations and tax laws in the US and around the world change and evolve, the global economy is more complex than ever. Accountants are invaluable in helping all kinds of organizations successfully untangle these complexities. With our in-person on-campus program and high exam pass rates, we are uniquely positioned to prepare people for these positions."

There are virtual information sessions about the program coming up Feb. 21 and March 28 with Professor Woodward, or you can learn more about Crowell's MPAcc program here.
Photo by Adeolu Eletu on Unsplash. Graphic from AICPA. Used by permission.