This is the second post in a two post series that examines the best practices of innovative companies and the factors that predict whether a particular firm would innovate or not on a consistent basis. Jeff McHugh is an Associate Professor of Management in the Crowell School of Business. You can find the first post by clicking here.
Design thinking is the innovation process and mindset that Palo Alto, Calif., global design consultancy IDEO utilizes when working with organizations to help them solve deep problems and build a culture of innovation. Human values are at the heart of their collaborative approach, which is why it is also known as Human Centered Design. IDEO focuses on creating transformative learning experiences that enable their students to develop a process for producing creative solutions to even the most complex challenges they tackle. IDEO's design thinking process is diagrammed below.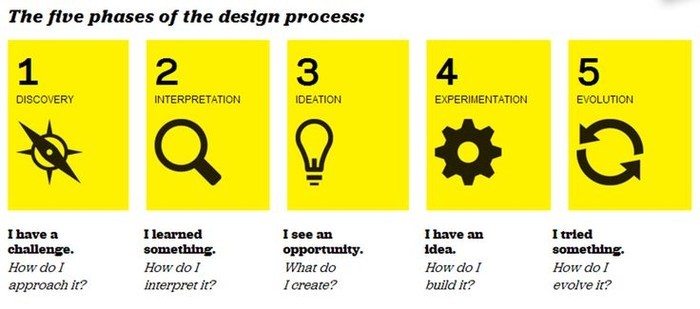 Source: IDEO
One of the organizations IDEO helped was medical device manufacturer Beckman Coulter, when I was the Group Vice President of the Chemistry, Proteins and Automation Business Center. Like many organizations, we were struggling to become more innovative. We were not meeting our customer's unmet needs or differentiating our solutions from the competition. After some competitive benchmarking, customer research and many internal discussions, it was clear we needed a culture transformation to increase our market share. In the summer of 2008, we hosted IDEO for a three day "Deep Dive" in an effort to become more innovative by learning about Design Thinking. The Design Thinking training involved 4 components: Customer Empathy, Building Prototypes, Brainstorming Techniques and Improving the Customer Experience.
Customer Empathy
Design thinking begins by building empathy for your customer and studying human behavior like an anthropologist. Design thinking will not fly in an organization that is too inward facing and does not spend enough time in the real world with customers.
Throughout my career at Beckman, I was known as a "Customer Focused" leader, but I realized that the rest of the organization did not have the same passion for customer satisfaction that I did. We had become an inward facing organization. To create more customer empathy, we created a VIP Customer program where every Manager and Director in the organization was assigned 3 VIP customers. The expectation was to visit those customers on a semi-annual basis to "empathize" with them and provide updates at monthly staff meetings. IDEO taught us how to ask better open-ended questions to get our customers talking and understand their unmet needs. Customer forums were also established at company headquarters on a quarterly basis, so everyone in the organization could clearly hear the voice of the customer. Performance objectives were updated to include customer relationship goals.
Most of these leaders in my organization were not in customer facing roles and at first I received some pushback, but I provided clear direction that everyone in R&D, Supply Chain, Finance, HR, Quality & Regulatory Affairs and Strategic Marketing was in the customer satisfaction business. It was not just the customer facing sales and service organization. Eventually, every leader "bought in" and understood the value of getting out in the real world more often and ensuring we did not fall into the trap of being an inward facing organization.
Building Prototypes
IDEO's Design Thinking process places a high value on risk taking and rapid prototyping. The IDEO way is to "Fail Fast," learn from the experience, and improve the next iteration. Unfortunately, there was a "fear of failure" in the Beckman culture that I needed to eradicate. By adopting IDEO's innovation process for future projects, we were able to make the rapid prototyping phase a safe place to fail/experiment and gradually the fear of failure dissipated. Prototyping is not only a powerful innovation tool, but it can become a cultural value. When everything is a prototype, the designer has the permission to be wrong and proactively seek feedback to improve the solution without fear of being ridiculed. When Beckman embraced the concept of building on the ideas of others, it unleashed all sorts of creative energy. One person's ideas and experiments would spur on another person's. Exchanging ideas within a group of people who trusted one another without fear of failure or judgment became of our new standard.
The mindset that helps drive a culture of prototyping is a bias toward action. Instead of constantly talking about ideas and concepts, an important Design Thinking principle is to start doing something, building something. Show, don't tell. Explore to generate multiple ideas, learn through hands-on building and role play to build empathy for customers.
Brainstorming Techniques
IDEO places a high value on productive creativity and they link it to playful behavior. This idea of productive creativity and playful behavior was foreign to Beckman Coulter, but as we learned their Seven Rules of Brainstorming, we were able to integrate productive creativity into our culture as well. Here are IDEO's brainstorming principles used in the Ideation phase of the Design Thinking process:
Defer Judgment
Encourage wild ideas
Build on the ideas of others
Stay focused on topic
One conversation at a time
Be visual
Go for Quantity
These principles ensure that enlightened trial and error trumps the wisdom of the "lone genius." At Beckman, I attended so many meetings where the "lone genius" thought every good idea could only originate from them. The loudest voice in the room influenced too many decisions. The intimidating and negative behavior I witnessed from lone geniuses stifled innovation and sucked the life out of the organization. s I asked for other opinions and ideas at meetings, of course I found creative ideas from the quieter team members. IDEO's brainstorming principles and the mindsets of rapid prototyping, bias toward action and radical collaboration, became the foundation of Beckman's culture of innovation. It gets everyone involved and capitalizes on the power of teamwork. By adopting the deferring judgment and building on the ideas of others rules in particular, we discouraged comments such as "That will never work here," "We tried that before and it failed," "We can't consider ideas outside of the organization." We replaced that language with optimistic possibility thinking such as "How might we?" Our top leaders held each other accountable to model this behavior. Applying IDEO's Seven Rules of Brainstorming unleashed the full power of our entire organization.
Customer Experience Innovative Solutions
The impact of adopting IDEO's Design Thinking process and mindset in an organization (like Beckman Coulter) shows up in the new focus and passion of development/design teams. The focus shifted to integrating customer desirability, with technological feasibility and business viability to deliver innovative solutions to transform the customer experience. Our new culture of innovation produced solutions that captured the hearts and minds of the customers and the development/design teams.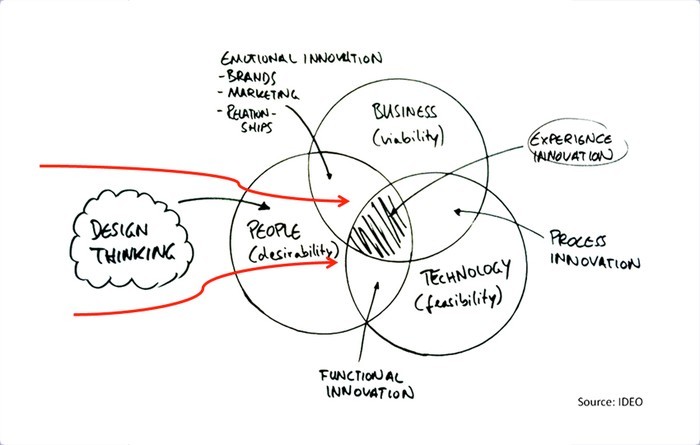 Final Thoughts
Design thinking is a human-centered collaborative approach to solving complex problems. Design thinking is a process that starts with customer empathy, and then moves to interpreting the customer research and discovery observations, brainstorming/ideating possible solutions, prototyping and testing to gain more feedback, and continually iterating and evolving the solutions as richer customer feedback becomes available. What cannot be overlooked though, is the mindset that has to be in place to implement Design Thinking:
Human Centered
Rapid Prototyping
Show Don't Tell
Bias Toward Action
Radical Collaboration
Mindful of the process
At Beckman Coulter in 2008, we needed a new approach to become more innovative and IDEO's Design Thinking method was the perfect fit. It improved teamwork, morale and employee engagement. Customer satisfaction surveys also moved in the right direction with improvements in responsiveness and overall customer experience. IDEO's Design Thinking training with the Seven Rules of Brainstorming helped Beckman Coulter create a fearless workplace, freeing people to take the risks innovation requires.