Growing up, Intercultural Studies (ICS) alumna — Eden DeLaVara ('22) — felt as if life was clearly planned for her with clear next steps from elementary school through college, but after graduating from Biola, she found herself in a new world of options. Her degree opened doors in North Africa for an internship, and most recently, landed her a job at a non-profit in San Diego. Her love for art opened doors to self-expression.
"All my life, it feels like I've been living life one step ahead," said DeLaVara. "It's like Google maps: there's always one direction coming up from where you're at on the screen. And then after graduation, all of a sudden, there's no more next steps, no correct way. There are multiple courses to choose from, and just knowing where I'm trying to go, figuring out which course I take to get there."
A few weeks after graduation, DeLaVara completed a two month internship in North Africa. Upon her return to the states, she began a different internship with the International Rescue Committee, which focused on serving asylees and victims of human trafficking. In October 2022, she was hired by Plant with Purpose, a international climate restoration non-profit.
Biola's international development classes played a large role in preparing DeLaVara for life after graduation. Dr. Katrina Greene, associate professor of anthropology and intercultural studies, played a significant role in her preparation.
"Dr. Katrina Greene's classes were helpful. The discussions in her classes mirrored those in the professional field," said DeLaVara. "I felt prepared to have those discussions surrounding international development because of them."
The intercultural studies major requires all students to receive internship experience prior to graduation. DeLaVara found hers abroad.
"I went to Costa Rica for two months for my internship, and got the opportunity to apply the skills I learned from the classes in my major," said DeLaVara.
DeLaVara has also implemented her art minor into her life. As a biracial African American-Latina, she searches for ways to express her culture and upbringing through her work.
"Being biracial has had a really big influence in my work. The biracial experience has been one where I ask a lot of questions that have no precise answers. Questions surrounding identity land in a liminal space. I find myself most intrigued when I'm asking questions in these liminal areas," said DeLaVara.
In her exploration of her biracial experience and thoughts, DeLaVara creates art.
"For now, the piece I am the most proud of is called 'Naomi.' It is a portrait of myself and my friend helping me with my hair. This one is so important to me because in my community, hair is a symbol of identity, it was special to have something that reflected that," said DeLaVara. "When black women come together, helping each other with our hair, it's just very special. It's a mutually strengthening experience, and that's what I wanted to capture."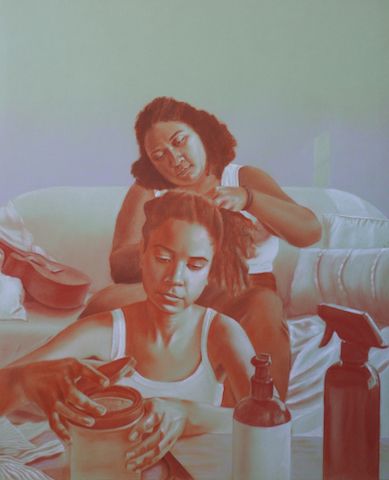 DeLaVara reflected on some of the hardships she has overcome. She has found herself coming to terms with how to navigate injustice. Her ICS degree and art has been an outlet for her to liberate her perception of herself.
"In my experience [at Biola], I often felt flattened into just a brown face to interview for a diversity assignment," said DeLaVara. "I had to learn to resist this flattening, and insist on being known in my full intersectional identity."
For DeLaVara, Biola was a place of challenges and growth. She is able to fully embrace who she is and what she loves.
Learn more about and apply to the Cook School of Intercultural Studies.

Written by Ryan Wingert, strategic communications assistant. For more information, please contact media.relations@biola.edu.