Over 23,000 children in Orange County are currently experiencing homelessness, according to the Orange County Grand Jury. Biola University alumna Mariah Martinez ('20) joined Friendly Center, a non-profit in Orange County, to help offer food security and shelter to this population.
"I received a bachelor's degree in public relations with a concentration in entertainment and events from Biola University," said Martinez. " ... Now that I am a part of an organization and team that shares the same values I do, I am able to not only use my PR education, but confidently contribute the Christ-centered part of my education I received as well."
Martinez graduated from Biola University in 2020 with a degree in public relations. Now, she works as the PR and Marketing Coordinator at Friendly Center. Martinez sees all the work she does — overseeing strategic media, communicating accomplishments, activities and opportunities related to Friendly Center, creating branded advertising and cause-marketing campaigns, managing SEO, photographing events — as aligning with both the goals of Friendly Center and her personal conviction as a Christian to make a positive impact for children experiencing homelessness.
Friendly Center is a non-profit that aims to provide resources to those who may benefit from food distribution, job development, and after-school tutoring. This non-profit has an awareness of generational and situational poverty, and hopes to break cycles by offering resources. They emphasize both immediate needs and long-term outcomes.
Martinez noted how Biola's biblical integration model directly impacts her work — this is easy for her to see, especially in the non-profit sector.
"Coming from a six-year career in the entertainment industry, it was a complete left turn for me to accept a position within the nonprofit industry. However, since working here I've seen not only my mental health improve, but my gratitude for the journey I've been on despite all its trials and challenges because it literally is what brought me here where I am today,... [I'm] doing what I love for an organization that has done more than I can fathom for the community that I now live in," said Martinez.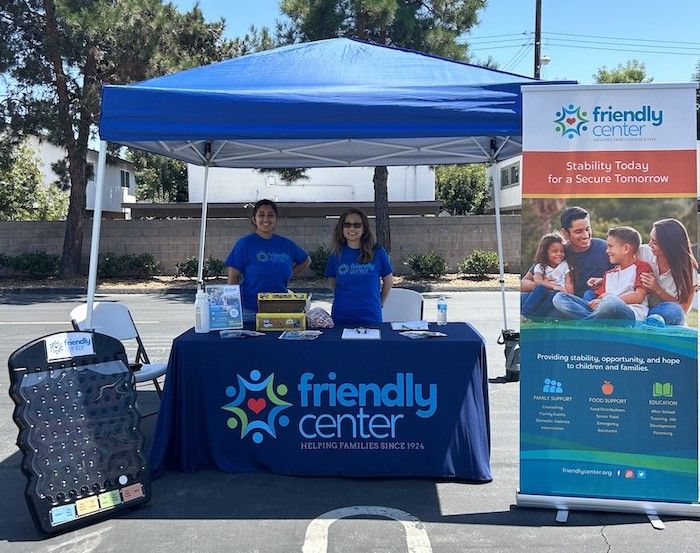 She can see how every decision thus far has led her to Friendly Center, where she feels she has come "full circle."Martinez shared an experience which opened her eyes to the needs of her direct community. While working at Friendly Center's weekly food distribution, Martinez recognized an acquaintance who lived in her apartment complex.
"She wasn't a part of the food distribution, but it looked like she was wondering what was going on and entered the building to get more information … about 45 minutes passed and she approached me while she was in line getting groceries," Martinez said. "She told me that she was recently evicted from the apartment building and came here looking for help and food since she couldn't afford groceries … This deeply impacted me because I started to think about how many people I've passed in my apartment building who could use the support and services Friendly Center has to offer, but just don't know that they have this available to them, not even 15 minutes from where they live."
Friendly Center is the oldest non-profit in Orange County — April 8, 2024 marks its 100 year anniversary. A gala will take place to commemorate this accomplishment. In her role, Martinez will create a campaign and plan key details of this event. Friendly Center celebrated another landmark on September 1, 2023, as Friendly Center's Buena Park location reached its one year anniversary. The organization's long term goal is to open locations throughout all of Orange County.
For more information on Friendly Center, please visit their website.
Written by Abigail Goosen, strategic communications assistant. For more information, contact Media Relations at media.relations@biola.edu.