LA MIRADA, Calif. — Biola University President Barry H. Corey announced the appointment of Dr. Matthew J. Hall to the position of Provost and Senior Vice President, effective July 1, 2022.
"Christian institutions like Biola University are increasingly rare and yet so vital in our time," said Dr. Hall. "Biola holds a place of distinction within Christian higher education, one marked by deeply held biblical conviction, academic excellence, and a commitment to glorifying Christ in all things. That's why I am humbled and delighted by the invitation to serve as Biola's next provost. Building on its rich legacy and strength, I believe Biola's best days are ahead as it continues to fulfill its mission in faithfulness to Christ."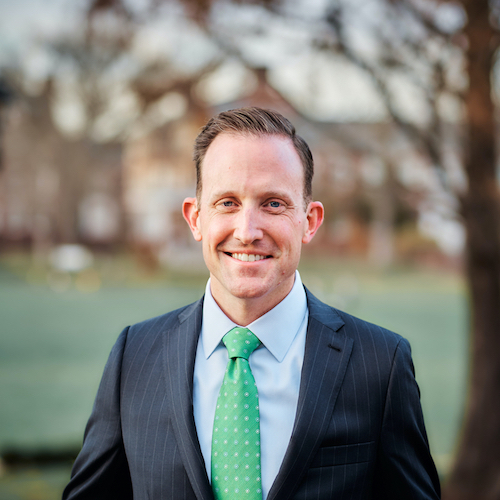 Biola commenced a national search facilitated by Carter Baldwin in October 2021 with the input of the Provost Search Advisory Committee chaired by Dean Melissa Schubert and Professor Joanne Jung. Dr. Hall has a long and effective executive record in academic administration. He is a proven administrator, serving since 2008 at The Southern Baptist Theological Seminary, most recently as its Senior Vice President of Academic Administration and Provost.
"Matthew J. Hall has served with excellence and distinction as Provost and Senior Vice President of The Southern Baptist Theological Seminary and Boyce College," said R. Albert Mohler, Jr., President of The Southern Baptist Theological Seminary. "He is one of the most gifted academic administrators I have ever known, and he is a leader who combines deep Christian conviction with demonstrated leadership skills. He knows how to nurture an academic culture, he loves faculty and students, and he is an accomplished scholar and teacher in his own right. Matt and Jeannie and their wonderful family will be great assets to Biola University and they will be greatly missed at Southern Seminary."
In addition to serving as provost and senior vice president, he also taught courses in church history, American history and American government at the graduate and undergraduate levels. With his academic field in history, he holds the rank of associate professor with research interests focused on the intersection of theology and culture in American religion. Dr. Hall has also served as dean of Boyce College, an undergraduate institution embedded in Southern Seminary.
"The more I have come to know Dr. Hall, the more I appreciate his mind and his heart," said President Barry H. Corey. "He is a bridge builder and cares about the global church and making disciples of the nations, he desires for students to excel in their vocational callings, he invests in the spiritual and intellectual formation of students and faculty alike, and he is committed to focus on the crucial role Christian higher education plays within the Kingdom of Christ and in bringing civility to a fractured and polarized culture. He carries the torch for cross-shaped justice, racial reconciliation and principled dialogue. He does this with a commitment to reason over ignorance, hope over anger, unity over fear, and kindness over rancor. Culture wars and division do not mark his life. Instead, Matt Hall is gentle-spirited and gospel-oriented."
Dr. Hall has a track record of making the aspirational operational. An innovative leader, he has been instrumental in recalibrating educational business models, lowering student costs, launching successful enrollment growth strategies, adding new academic programs and building strong online degrees, including designing a major initiative for master's degrees offered in Spanish that now has over 700 students globally. Dr. Hall has done this while also advocating for faculty flourishing through scholarship, sabbaticals, research, development and unity.
"Matthew Hall is a proven leader, a leader with a Christ-formed mind, a Christ-formed heart, and a Christ-formed conscience," said Russell Moore, theologian and director of the Public Theology Project at Christianity Today. "Knowing both Biola and Matt Hall as I do, I cannot envision anyone more perfect to serve as provost of one of the world's best Christian universities. Congratulations to Biola on choosing a scholar who will not only serve with excellence but who will model for the next generation godliness, conviction, compassion, and humility."
A graduate of Grove City College, he has a commitment to the liberal arts with its attending principles of free expression and diversity of thought that a faith-filled university should hold within its theological convictions. His record is one of listening to ideas and concerns in order to come to wise and thoughtful decisions, navigating new ways to imagine the future while remaining committed to the orthodoxy of historic Christianity.
"When I heard that Dr. Matthew Hall was to be appointed the next Provost at Biola University, I took a sigh of relief," said Dr. Charlie Dates, Senior Pastor at Chicago's Progressive Baptist Church. "The next generation leaders are at risk. Our training institutions risk slippage rather than traction. By bringing Matt to Biola, the unseen providential hand of God may be giving a new generation more time to find their noble, biblical theological footing in a rapidly declining culture."
The Biola University community will welcome Dr. Hall, his wife Jeannie and their three school-aged children this summer.