Women have overcome obstacles in their ministries and transformed cultural constraints to spread the gospel historically, writes Biola University professor Dr. Leanne Dzubinski, in her book, Women in the Mission of the Church.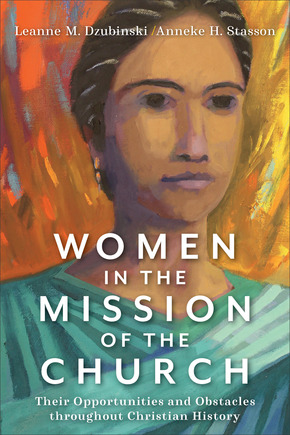 "Some people think that women's involvement in ministry is a new thing — but it's not! Jesus had women followers and disciples. Women have been active in sharing the Christian message ever since that time. And women have done all kinds of different things throughout history," said Dzubinksi, Cook School of Intercultural Studies professor of intercultural education and studies. "We have chapters on women as mothers and sisters and queens, on women monastics, on women preachers, women missionaries. Women have followed all kinds of callings and vocations to build the church."
The book was recently awarded the American Society of Missiology (ASM) Book Award for Excellence in Missiology 2021, a winner in Outreach Magazine's Outreach Resources of the Year in the "Theology and Biblical Studies" category and named as one of ten outstanding books in the April 2022 edition of the academic journal International Bulletin of Mission Research.
"The authors bring to life the unknown and remind us of those who deserve being remembered," wrote Outreach.
Dzubinski and her co-author Dr. Anneke Stasson, former Torrey Honors College professor who currently teaches at Indiana Wesleyan University, will be honored at the annual ASM meeting on June 18 at the University of Notre Dame.

The authors highlight the legacies of a wide variety of women in their book, which is a collection of historical stories showing how women have overcome obstacles to their ministries and transformed cultural constraints to spread the gospel and build the church.
Each section of the book covers a different period of church history and introduces readers to significant women and themes of a specific era. During Dzubinski's time working on her doctorate in ministry at Gordon-Conwell Theological Seminary, she became interested in women's roles in ministry throughout time, and after giving many presentations on the topic and receiving encouragement to write a book, she decided to start the project.
"I thought, 'Women really need to hear these stories and know what other women in earlier times have done, and what they have experienced,'" said Dzubinksi.
Writing the book came with its rewards and challenges. While writing, Dzubinski empathized with the triumphs and difficulties that women experienced throughout history.
"On the one hand, it was really fun to see how women have been involved in building the church and spreading the Gospel from the earliest days. But it was also sometimes stressful. Women had to deal with obstacles and opposition. Many women didn't know about their predecessors who had preached and evangelized," said Dzubinksi.
The authors hope the book will be used as a textbook in Christian history courses, but also as a resource to church leaders and men and women alike in the church. They also hope that men and women mission workers find the book helpful.
Dzubinski hopes the book will encourage women in their present circumstances. She noted a few students who have read portions of the book shared with her that it was like a "balm for the soul." Dzubinksi aspires for stories of women in Christian history to be studied more in the future in general.
"We want to see churches and seminaries and history classes include more stories of women alongside the stories of men. In the book we talk about some reasons why women's stories haven't been included," said Dzubinksi. "We think it's time to expand the stories to have a fuller picture of how the church has grown and spread throughout two millennia."
Purchase Women in the Mission of the Church through Baker Publishing Group or Amazon. The book was released on April 20, 2021.
Dzubinski is also the program director of the doctorate intercultural studies program and interim dean of Cook School of Intercultural Studies.
Learn more and apply to the Cook School of Intercultural Studies.
Written by Sarah Dougher, media relations coordinator. For more information, email media.relations@biola.edu.