Biola University men's basketball coach, Dave Holmquist, became just the fifth coach in all of collegiate men's basketball history to reach 1,000 career coaching victories. He hit the historic milestone on Saturday, February 27, 2021 when Biola defeated Concordia University Irvine.
"I just feel very blessed and thankful to have worked at Biola all these years," said Holmquist. "To be able to have worked for the kind of people I've been able to work with, the players and the administrators and other faculty. It's just been a great experience."
Holmquist played basketball as a student at Biola, graduated from Biola, and has served the Athletic Department faithfully since 1978 with time as men's basketball coach, tennis coach, kinesiology instructor, athletic director and much more. During his time as Biola's head coach he's worked directly with 298 young men, helping them develop as basketball players and using sports to teach life lessons about their relationship with God and one another. He is a beloved member of the Biola athletics staff — he is known as wise, humble and has a great sense of humor.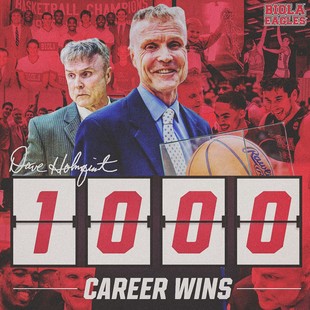 "Coach Holmquist is the type of leader that sees and brings out the best in others," said Dr. Bethany Miller, senior director of athletics. "He has done this since 1978 in the lives of countless students and staff members. This historic win mark is a reflection of both his intense competitiveness and coaching prowess as well as his deep relational care for people. It is a gift to work with him and learn from him! We are looking forward to the time when we can celebrate coach Holmquist in person together."
Over the course of his outstanding career, Holmquist has earned two national Coach of the Year awards, eight conference Coach of the Year awards, was inducted into the NAIA Hall of Fame, and has led Biola to 21 national tournament appearances.
Biola will have a celebration for Holmquist's achievement when it's safe and permissible.
For more information, contact Jenna Loumagne, assistant director of strategic communications and media relations, at jenna.loumagne@biola.edu.