It is with a heavy heart that I join the Biola community in grieving the passing of worldwide evangelist Luis Palau. He passed away on March 11, 2021 from lung cancer at the age of 86.
Luis and his world-wide ministry have meant so much to Biola University over the years. Few have equalled Luis Palau in his humble passion for the Great Commission, leading countless souls to Christ in Latin America and around the world over so many years. He has been recognized at Biola with an honorary doctorate for his evangelistic work, and he gave a Commencement address in 1977. He preceded former Biola President Dr. Clyde Cook as the president of OC International, prior to Dr. Cook's presidency at Biola — Luis surrendering that important administrative role to devote his energies full-time to evangelism.
Dr. Cook, who was my predecessor at Biola, passed away just three days before Luis was scheduled to speak at a chapel honoring Biola's centennial in 2008, and I'll always remember the depth of the admiration he expressed for Clyde Cook as a fellow missionary and Christian leader, and for Biola University. He encouraged students in that message to dream big for God in their lives.
Born in Argentina in 1934 to a family successful in business, Luis became a Christian at the age of 10 through the work of a British missionary. In the 1950s, he began working at the Bank of London in Cordoba, and at that time he first heard Billy Graham on the radio. He prayed God would allow him to become an evangelist like Billy Graham. After Luis became a U.S. citizen in 1962, he began to serve as a Spanish interpreter for Billy Graham during his evangelistic crusade in Fresno, Calif. After that first crusade, his career as an evangelist began.
He began hosting radio broadcasts in Colombia, which developed into "Luis Palau Responde" and "Cruzada con Luis Palau," now heard by an estimated 22 million Spanish speakers across the globe. In 1978, Luis incorporated the Luis Palau Association, an organization which today hosts citywide gospel campaigns globally to share the good news of Christ.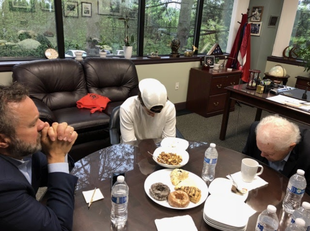 As Biola's president, I have personally treasured my friendship with Luis and his family, his wife Patricia, his sons, especially Kevin and Andrew. I even had the honor to get to know one of his amazing grandkids. With his son and grandson beside him, Luis and I prayed together the last time I saw him in person, in Portland, three generations of Palaus in his office praying with me.
Can you imagine? Here was this incredibly devoted man of God, global evangelist and leader, who was suffering mightily in his body, and yet he wanted to pray for me and for Biola and our students, and for those who still need to hear the gospel around the world. He prayed that day that Biola would be a light to the nations. He prayed for wisdom for my leadership, that God would use us for his glory and that God's name would be exalted.
What a life. What a legacy. Today I join so many others who have been touched by this man's example and for his devotion to Christ and his kingdom. May God continue to bless the work of the Luis Palau Association in its global work.
Please join me in keeping his wife Patricia, sons Kevin, Andrew and Keith and their families in your prayers.