Alumna Capt. Katie Kopp (M.A. '05, Ph.D. '08) knows the toll war takes on soldiers' mental health. She witnessed it firsthand as an Army psychologist, providing services to soldiers from the Battle of Kamdesh, which is described as one of the fiercest battles of the Afghanistan War. The Outpost, rated R, a film released in July 2020, follows the battle as it occurred on Oct. 3, 2009 and highlights the heroism and fortitude of those who fought in the battle alongside the ensuing mental toll. Kopp, a graduate of Biola University's Rosemead School of Psychology is depicted in the film.
"I was very surprised but glad to hear that they were going to include the mental health aspect of what it means to be in war," said Kopp, in reference to the film. "Sometimes films focus on the heroics and neglect to convey the reality of how difficult it can be to cope with the consequences of doing difficult things and losing comrades. My role was to support them after the fact, and it's been an honor to be even on the periphery while the rest of the world begins to understand how amazing their story is."
The film director reached out to Kopp and asked her permission to add a psychologist character into the movie based on her and who would share her name. Once actress Celina Sinden was cast for the role, Kopp had a half-hour conversation with her to share about her role with the actress.
"I appreciated that it was really a very small role but she was so thorough in trying to understand my experience in those moments after the battle," said Kopp.
Although Kopp stated she played a small role in providing information to the film director and the actress, she plays a large role in the lives of veterans' mental health, both then and now.
"I have spent my entire career from the day I left Rosemead working with the military. I went from active duty to a civilian working for the Army to now support veterans from all services with the Department of Veterans Affairs," said Kopp.
Kopp's psychology career began in the Rosemead School of Psychology building on Biola's campus during her commissioning ceremony in 2005. At the time, she had no idea what a military career would look like for her, but she said she was following in the footsteps of Rosemead alumni before her by going into military service. Fifteen years later, she is still working with veterans.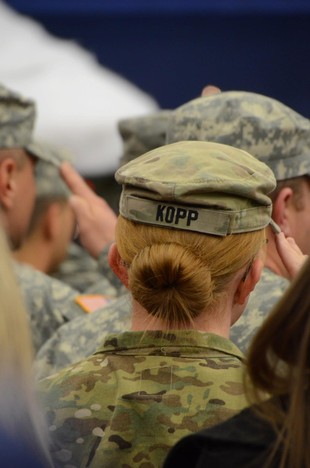 Kopp has experienced countless highs during her career and has formed lasting friendships.
"The best part of the Army is the people I served with. There are people that I know I could call after being out of touch for years and they would show up for me," said Kopp. "When you go through intense experiences like that, it forges an intense bond that is hard to find in other places."
Alternatively, for Kopp, the challenges she endured during her time serving illuminated the need for psychological service in the military.
"The most challenging aspect is losing people. A big part of my job was meeting with soldiers after bad things happened, as depicted in the film, and while it's an honor to meet people in those moments it also got pretty heavy sometimes," said Kopp. "In the years since I left active duty, the hardest part is the overwhelming need for mental health services for veterans. I encourage Rosemead graduates to consider taking the steps to become culturally competent to work with veterans so that you can assist with meeting the need."
Kopp credits Rosemead for the preparation she received to enter the service, noting the biblical integration as a formative aspect.
"Rosemead provides excellent clinical training, which can be used as a foundation to specialize in any field. The unique aspects of Rosemead's training, with classes in spiritual formation and theology, continue to influence my practice every day as I try to highlight the importance of purpose and meaning-making with my patients," said Kopp.
The challenges and difficulties of serving with the military is all worth it to Kopp.
"There aren't many things in my life that bring me more pride than to have served," said Kopp.
Learn more and apply to Rosemead School of Psychology. Watch The Outpost on Netflix.
Written by Sarah Dougher, media relations assistant. For more information, contact Jenna Loumagne, assistant director of strategic communications and media relations, at media.relations@biola.edu.