Biola University School of Cinema & Media Arts alumnus Ryan Frost ('07) produced the independent comedy-drama "The Dark Divide," now out in theaters. Based on the book "Where Bigfoot Walks: Crossing the Dark Divide" by author Robert Pyle, the movie stars David Cross as a butterfly collector who treks through the mountains of Washington after the untimely death of his beloved wife. Independent director Tom Putnam wrote and directed the film while Frost co-produced through his company, Public House Films.
With its lush locations, "The Dark Divide" feels tailor-made for people who love the outdoors, but the core themes — transformation, recovery and personal growth — strike a universal chord. Prior to the film's release, Frost partnered with REI, the outdoor clothing, gear and footwear retailer with an 18 million-person reach, as well as the National Wildlife Federation, a nonprofit with 6.5 million members.
"We knew the audience we wanted to reach," said Frost, who strategically targeted nature-lovers as a key viewing base. "If you know your audience, it opens up the door for you to tell specific stories that can move people powerfully."
After graduating with a degree in film production from Biola, Frost sought to be a director. After working for a time in documentary filmmaking, he became interested in independent film financing. He started Public House Films as a vehicle to reexamine some of the traditional models for film finance.
"Sundance had its largest, most successful sales year in 2017," Frost remembers. "Then, all of a sudden, Netflix said, 'We're not going to acquire anymore. We're going to make films in house.' And acquisitions fell off a cliff."
Starting his own company gave Frost the opportunity to try to solve some of the financial problems the movie business has faced for so long. He believes that telling compelling stories on a smaller scale using emerging models is the way forward.
"The timing of this movie is unique," said Frost. "Everybody is stuck inside and dealing with some sort of spiritual grief. And here's this story about an escape into the wilderness with this guy who's rediscovering who he is, and bringing hope in the end."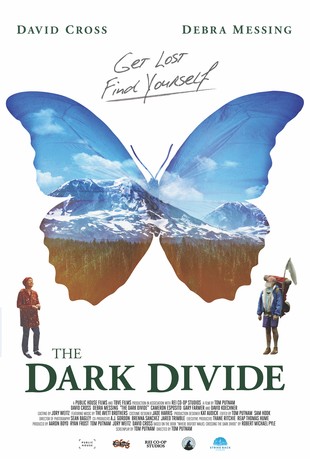 Casting the film was important. "The Dark Divide" expertly plays to the comic talents of David Cross, a stand-up comedian who became a TV star for his role as Tobias Funke on "Arrested Development." The movie also stars Debra Messing, Cameron Esposito, Patterson Hood, Gary Farmer and David Koechner.
Frost is optimistic about the film's power to reach people.
"We live in a world that is increasingly stressed out and disconnected. It's more important than ever to get out of the house, to be around nature, and to get grounded in the things that matter again," he said.
"The Dark Divide" was released in select theaters on September 18. It is available for a limited time through Virtual Cinema, a platform that allows viewers to watch through their mobile devices, computers, and TVs. The movie will expand to multiple streaming platforms beginning November 10. For more information, visit darkdividefilm.com.
Learn more about Biola's School of Cinema and Media Arts programs and concentrations.
Written by Nate Bell. For more information, contact Jenna Loumagne, assistant director of media relations and strategic communications, at jenna.loumagne@biola.edu.