Biola University held a ribbon cutting ceremony this month to celebrate the opening of the new Biola Veteran Center for Military Affiliated Students. U.S. News and World Report recently named Biola on their list of 2020 Best Colleges for Veterans. The university has increased efforts in recent years to support the 130 student veterans and approximately 140 students with military affiliated families.
"At Biola we count it a privilege to serve our growing population of veteran students, recognizing the great sacrifices they have made in serving our nation," said Biola President Barry H. Corey. "It is my hope and prayer that through this dedicated place on campus, our veterans will not only receive their university degrees but will continue their legacy of wide impact through faithful service."
State Sen. Bob Archuleta and Majority Leader Ian Calderon attended and spoke at the ribbon cutting ceremony on Sept. 16. Archuleta, an Army veteran who was a paratrooper with the 82nd Airborne, recognized the men and women from Biola who are currently serving, have served or are going to serve. Standing at the podium at the ceremony in front of flags representing each branch of the military, he thanked Biola veterans and family members' sacrifices — something he knows personally as his two sons are West Point grads who are now on active duty.
"... equally as important are the men and women from Biola who have recognized you, acknowledged you, realized that your service and sacrifice must be accountable in our lives every single day," said Archuleta.
Calderon presented Biola with a certificate of recognition at the ceremony.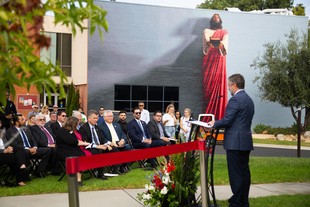 "It was so important for me to be here to recognize what Biola is doing for their veterans and how important that is," said Calderon. "I don't think that there is anything more prideful when it comes to being an American that being able to recognize the service and sacrifice of our veterans and those that are currently serving in active military duty."
The Biola Veteran Center for Military Affiliated Students is located in the Upper Student Union Building. Equipped with computers, a printer, fridge, eating area, smart television, and central meeting area, the center is designed to provide a welcoming and functional environment for veterans and military affiliated students.
"Veteran students, ROTC students and students still serving, you are important to us. You are an integral part of our community and we're grateful you chose to study at this university," said Corey. "Your stories, your journeys, your experiences make Biola a better place. For those who have served and are currently serving, we thank you for your service to our country. For spouses, for children, for family members and loved ones, we thank you for your role in loving and supporting those who have served and are currently serving this nation."
Those who had served or are serving in the military were presented with Biola Student Veteran Challenge Coins.
In conjunction with the university's Veteran Programs, the center will host educational webinars and other events designed to foster dialogue and collaborative learning for student veterans, faculty, and staff. Biola Veterans Association (BVA) students contributed to the fruition of the center. BVA exists to be a source of "support, representation, and camaraderie for all veterans and service members at Biola." The center is supervised by Jennifer Alvarez, Assistant Director Veteran and Military Affiliated Student Programs, and staffed by a team of VA Work Study students.
Learn more about Biola's veterans services online.
Written by Kiana Karn, iBiola reporter intern. For more information, contact Jenna Loumagne, manager of media relations, at (562) 777-4061 or jenna.loumagne@biola.edu.