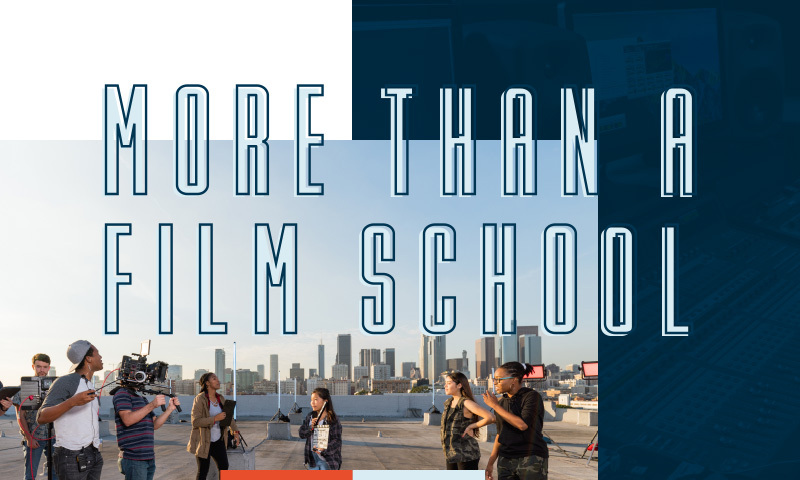 Biola's School of Cinema and Media Arts is a rising star in the entertainment industry.
So say a growing number of industry leaders and publications, who in recent years have taken note of the school's expanding impact in Hollywood and beyond. Among the most recent accolades came this April when Biola made a fourth consecutive appearance on Variety's list of the world's top 50 film schools — one of just a few Christian universities to make the cut.
There's no denying the school's momentum: In the past few years alone, Cinema and Media Arts at Biola has grown from a standalone major to a multi-program school — with plans for several additional master's and bachelor's degrees in the works. Prospective student interest and enrollment has continued climbing, with expectations that the school will become one of the university's largest within just a few short years.
Students are finding success in internships and nationwide competitions. Faculty are garnering accolades and awards. Alumni continue to make their imprint throughout the industry. And with plans for a new $76 million building well underway, the vision for the school's future is only growing more ambitious.
Now, under the leadership of Tom Halleen — who left his position as an executive vice president at AMC Networks in the spring of 2020 to lead the school as its founding dean — the school is setting its sights higher than ever. Biola Magazine recently caught up with Halleen to learn more about his background, his vision for the school and why he thinks it's vital for Christians to care about crafting thoughtful, compelling content for screens of all shapes and all sizes.
Meet Dean Tom Halleen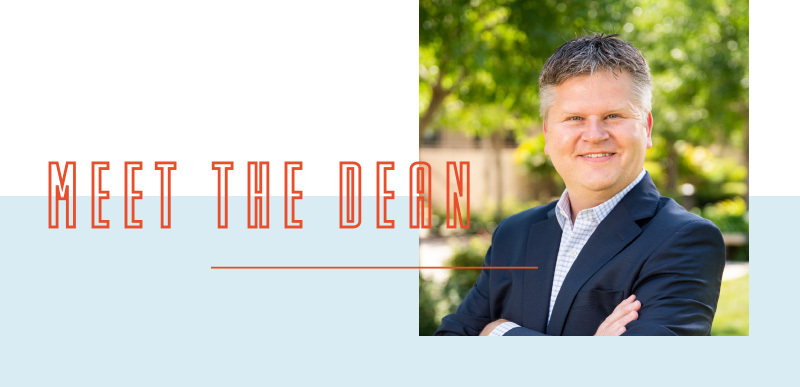 Tom, you took a bit of an unusual route to becoming a dean. What led you to make the leap from network executive in New York to academic administrator in Southern California?
After 30 years embedded within the programming offices of the television industry, it was God's calling to Biola — its mission, its students and its alumni — that brought me here. I resigned my EVP role at AMC Networks because this is the new role I'm called into. It's as simple as that.
Throughout these past three decades, I recognized that my career was not mine but his. I prayed daily that God would provide me favor, a voice, influence and opportunity to be a light to those needing to see that faith is strength, not weakness. I've had many great experiences, worked with incredible executives and content creators, and rebuilt networks, yet chasing after Nielsen ratings wasn't enough anymore. I realized I'm now called to reinvest my time into something of much greater value: Biola's students and alumni.
To add, this university has always held a special place in my family. My brother attended back in the early 1990s and my son, Sam, graduated from the CMA program in 2015. I'm a Biola dad!
Since your arrival, you've been emphasizing that the School of Cinema and Media Arts is "more than a film school" — in other words, we're not just preparing people to make movies. Tell us about your expanding vision for the role of this school.
Others may run film schools, but we're more than just a film school. Within CMA we're now a "four screen" program, equipping and educating students to be effective storytellers and leaders on the film screen, television screen, computer screen and on your device's screen. This is why we're updating our program to include television, game design, interactive media, short-form, digital/social media, among other contemporary platforms. To best equip students for their futures, we must remain agile to adapt as new technologies and new platforms emerge.
In addition to this, we're expanding to not only educate students how to make compelling and redemptive visual stories, but we'll also provide them with a well-rounded understanding of how the business of the media operates. While we'll continue to teach the art, we'll also teach the industry which surrounds the art — something missing in many film schools. We want Biola's CMA students to be better prepared for a career than their competitors.
Over the past several years in particular, the School of Cinema and Media Arts has been rising in prominence— to the point that it now consistently finds a place on Variety's list of the world's top 50 film schools. What is it that sets Biola apart?
I'd like to start with our excellent faculty of working professionals, along with our amazing alumni working inside the industry. Our close proximity to the L.A. entertainment hub provides our students unique access to internships, guest speakers, studio experiences, screenings, mentorships and job opportunities. Our on-campus facilities provide students with nearly $4 million of industry-grade equipment, multiple soundstages, editing bays, mixing rooms, etc., all of which they can access starting day one of their education. All great reasons why we're considered one of the best schools in the world for media training. But I think there's more to us than that.
In their 2021 Education Impact Report, industry publication Variety references our unique sense of community that champions "collaboration rather than competition." I think the reason this collaborative spirit exists is that in addition to appreciating each other's talents, we also regard each other as fellow image-bearers. It's part of a very unique, positive culture within Biola. It's why we call it the CMA Family.
We're committed to equipping our students with the skills and qualities needed to have successful careers across the media landscape, but we set ourselves apart by training not just the mind but also the heart. Just as we prepare students to become the storytellers of their generation, it's our deepest desire to help each of them discover their role in a story much larger than themselves. We never want our students to forget that God's stage is all around them every day. Their influence isn't just on the screen, but on every individual they interact with along their journey.

Why is it so important for Christians to be involved — and to support those who are involved — in the entertainment and media industry?
Did you know in the U.S. alone, the average adult consumes nearly 12 hours of media every single day across multiple screens? When you look just at your television screen, were you aware that there are 4.64 billion TV viewers worldwide? Think about that: 4.64 billion TV windows into the homes of the world's population. And the combined areas CMA is preparing students for (the four screens) equates to a $328.7 billion industry annually that's only growing, in power and especially in influence.
George Orwell once said, "The people will believe what the media tells them they believe." Do you like what the media is teaching you? Does the media represent your voice? Do you want to have a voice into the most powerful form of communication on the planet?
Biola's Cinema and Media Arts program understands the power of the media. We also recognize that it struggles to understand who we are as Christians. We can fix that. Many of our alumni are already fixing this. Our faith is not a weakness but our superpower! It's my greatest desire for our students and alumni to impress and impact the entertainment industry (and the world through it) by their skills, their character and through their stories. I want them to engage and inspire those around them to provide hope to a world which needs to hear and see God's love through them. Now more than ever before.
I hope every Christian understands that culture is shaped by the media. We should all be involved supporting these students called into this industry. No matter where you are, you can make a difference with worldwide impact. Please join us. Please support them.
What have you learned over the past year as you've connected with Biola alumni?
One of the reasons I joined Biola is its amazing alumni. They were my first step in understanding CMA from the inside out, by listening to what I consider CMA's extended family. After personally speaking with nearly 100 to date, they've proven to be an incredible source of wisdom, perspective and expertise. In fact, their voices are already having a significant impact on the future of our program. Their honesty and counsel is something I continue to welcome. If you're a CMA alum, please reach out to me. I'd love to meet more of you, listen to your experiences and welcome you back home!
It may be hard to pick just one, but can you share about a recent film project from a student, alumnus or faculty member that you found to be particularly impactful? And what did it represent about the qualities that your school is trying to instill in students?
My first Biola Film premiere experience was on Saturday night, May 1. Though an appropriately masked and socially distanced event, it was an emotionally impactful night of celebrating student accomplishment, in-person community and the power of storytelling. I was so proud to witness it all.
The showcased film, Healing, was directed by Katelyn Moger, written by Sophia Kalugin and produced by Griffin Douglass — all CMA students. It explores the emotional and physical trauma of an eating disorder, and its personal impact on a tight-knit, loving family. The road to recovery is challenging but when traveled together, there is hope.
At the premiere, I experienced not only a story well told but a production well led. Having attended many screenings and Q&A sessions through the years with some amazing productions like Mad Men and The Walking Dead, I've never attended one where the crew and on-screen talent spoke so highly about the on-set culture. Words such as "love" and "care" for one another were used frequently — that's how Biola students stand out. Our students demonstrated that they're not only great at their craft, but they're also great at living out the character of their faith. I was excited to see such an example.

Your school is in the early phases of raising funds for a significant new building. What can you tell us about it?
If CMA is to achieve its long-term vision of enrollment and program growth, a new studio facility is essential. Central to our ability to effectively equip our students is the construction of this state-of-the-art studio center: a three-story, 56,500-square-foot facility that's an inviting, tasteful homage to classic Hollywood glamour. The centerpiece of the facility will be a state-of-the-art screening theater that will showcase student films and major motion pictures, as well as host lectures and live production events. The studio's other features include a 3,000-square-foot soundstage (nearly twice as big as our current Studio A soundstage), a student café and plaza, editing bays, computer labs, classrooms, offices, mixing rooms, motion capture, Foley and scoring stages, among additional features.
While the heart of any university is its faculty and staff, the new CMA studio center will be a profound and powerful manifestation of this as it demonstrates Biola's commitment to media education. It will be a calling card for students, just as it'll be a visual statement of commitment and credibility to the industry itself. In addition, placed between the Crowell School of Business building and the Alton and Lydia Lim Center for Science, Technology and Health, the three schools reflect the integration of science, business and the media into a trifecta of influence.
As you look to the future of the School of Cinema and Media Arts — with significant enrollment growth, new programs and even a new building — what excites you most?
The students and alumni always excite me the most. I'm here for them. The entire CMA team is here for them. Our future plans are for them. Growth in programs, facilities, equipment and opportunities are all centered on preparing students for influence inside the media. But our commitment to them doesn't end upon graduation. We want to stand alongside them throughout their careers.
For incoming students, whether they're interested in one of the many facets of production, producing, writing, game design or entertainment business, there's a place for them here at Biola. Whether they're interested in movies, hour-long or half-hour episodic television, short-form, digital/social media, fiction or nonfiction, there's a place for them at Biola. CMA has supplied hundreds of voices into the media. Our growth plans give us the opportunity to provide thousands.
For our alumni, our commitment to you does not end upon graduation. I consider you peers and still very much a part of CMA's family. You are Biola's voice into the industry. Your experiences since graduation can provide an incredible resource to students who are just now beginning their journey. Many of you have already expressed your willingness to lend your expertise to them. Thank you! It's what makes our alumni uniquely special.
Rave reviews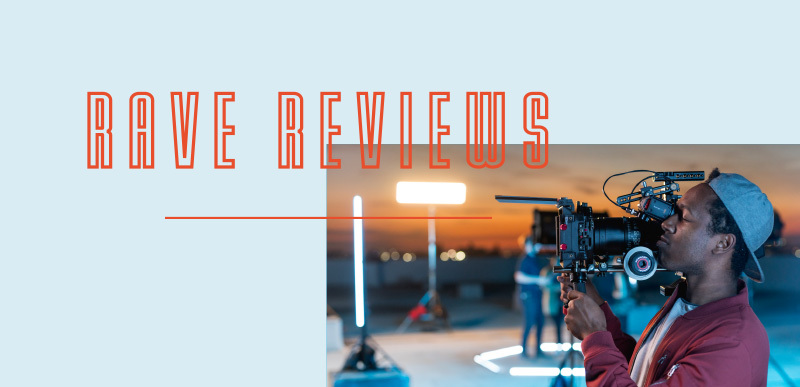 Biola's School of Cinema and Media Arts continues to grow its reputation as a destination for the next generation of filmmakers, storytellers and game designers — evidenced in part by the school's appearance in numerous industry-specific rankings. In April 2021, Variety recognized Biola for the fourth consecutive year on its list of the world's top 50 film schools, writing: "Located in suburban Los Angeles, the school champions a sense of community — collaboration rather than competition — giving students and faculty opportunities to work together and learn from one another while utilizing more than $3 million in production equipment."
Among the school's recent accolades:
One of the "Top 50 Film Schools and Instructors From Around the World"
Variety
One of the "30 Film Schools You Should Know"
Backstage Magazine
One of "The Top 50 Film Schools of 2020"
The Wrap
One of the Top 50 "Best Colleges for Film and Photography in America"
Niche
One of America's "Noteworthy Film Schools"
Filmmaker Magazine