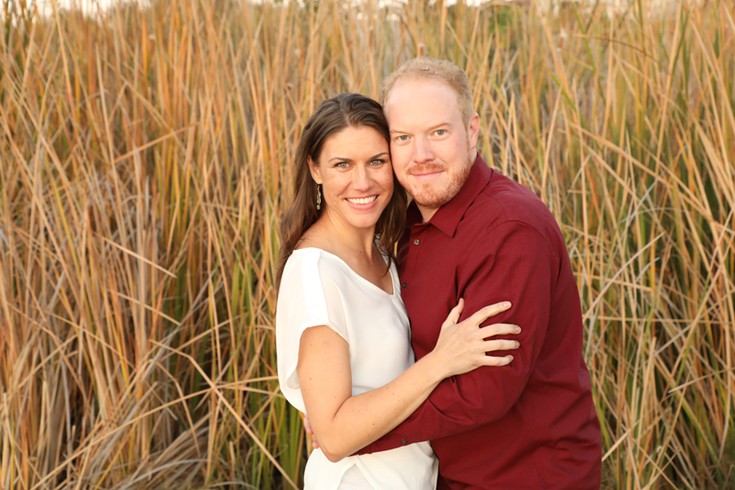 When Becky (Mierau) and Nathan Dowling graduated from Biola in 2007, neither of them envisioned living and working in Africa. And though they were friends and colleagues in the inter- cultural studies program, they didn't dream of becoming lifelong partners a decade later when they married in 2017. But when they arrived at Biola their first year, one thing they both knew was that God was calling each of them to pursue missions-related work.
Becky, who double-majored in intercultural studies and anthropology with a con- centration in international development, was fascinated by the idea of being able to pursue work that demonstrates God's love in practical ways.
"With the emphasis in international development, which is applied anthropology, I was really interested in this idea that the kingdom of God could come in spiritual and physical ways," Becky said. "And I was really interested in working for a nonprofit or an NGO that was Christian and then doing work that was either in education or livelihoods or health."
Becky ended up doing exactly that, gaining experience in relief and development for organizations including Food for the Hungry, International Justice Mission, Procom Rwanda and World Vision in south Sudan. Now working in her first position with a business, she is the program development director at Muraho Technology, a Rwandan-based company committed to training vulnerable women for careers in quality assurance for software companies. In between the work she was doing with these organizations, Becky pursued her master's degree in law and diplomacy from Tufts University.
"A bleeding heart doesn't do anything; it's people who are equipped and are the best in their field," Becky said, explaining why she decided to pursue an advanced degree. "I believe the poor and marginalized deserve our best."
At Muraho, where Becky works with an all-Christian senior leadership, they have just finished training their second cohort of women, training them to be internationally certified software testers — the first time in Rwanda — for Western companies.
After Biola, Nathan was inspired to seek similar work to Becky after seeing a photo of her on Facebook working at a refugee camp. He eventually sought an opportunity with Food for the Hungry in Uganda, where they reconnected. The Ugandan director hired Nathan to serve as the logistics administrator, having misread Nathan's application which said he had an emphasis in linguistics. (Nathan, meanwhile, wasn't entirely sure what was meant by the logistics title.)
Despite the steep learning curve, Nathan became entrenched in clean water and clean energy projects, and is now involved in multiple projects in these sectors, and in agriculture — work that has resulted in providing clean water for over 1 million Rwandans who would otherwise have no access to clean water, in- creasing yields among farmers and creating alternative energy sources including Rwanda's largest solar field with 8.5 megawatts.
It has now been more than 10 years since they started at Biola as students in intercultural studies to now actively working in the field. But only a little over a year since they've been doing this together as partners in marriage.