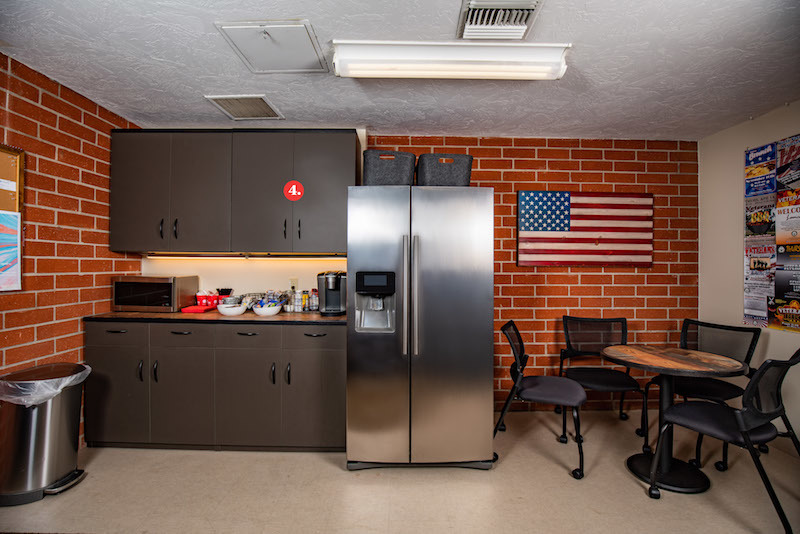 This fall, Biola opened a new Veteran Center — a gathering space for the university's more than 120 veterans and military-affiliated students. Located in the Student Union Building, the space was dedicated on Sept. 16 with a special ribbon-cutting ceremony attended by state Sen. Bob J. Archuleta, Assembly Majority Leader Ian Calderon and La Mirada City Council members.
The student-led Biola Veterans Association previously gathered a few times each week at the "Rally Point," a name they gave for their pop-up veteran center. Now, they can gather in a permanent communal space to hang out, stay connected and find helpful resources.
1. Stuck on prayer. This frame contains "pledge" stickers that Biola students signed at last year's Veterans Day chapel, committing to pray for student veterans throughout the year.
2. Represent. This flag represents the five branches of the U.S. Armed Forces: the Air Force, Army, Coast Guard, Marine Corps and Navy.
3. 24-hour clock. This special clock tracks the day using military time. The center is open Mondays through Thursdays from 0900 to 1600 (that's 9 a.m. to 4 p.m.) and on Fridays from 0900 to 1400 (9 a.m. to 2 p.m.).
4. Home base. The space serves as a home away from home for Biola's military community — especially those who commute — including a kitchen, dining table, couches to lounge on and computers for classwork.