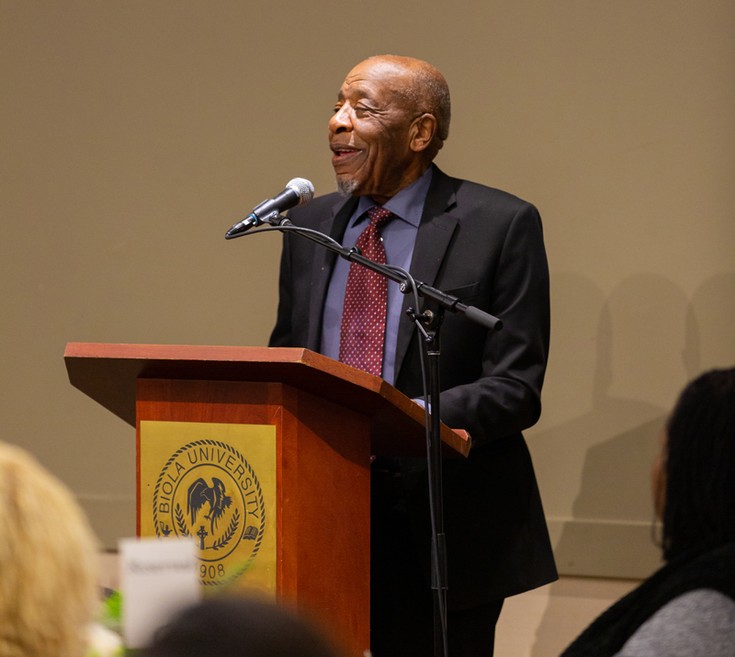 John M. Perkins, born in 1930 in Mississippi, lived through a tumultuous period during the American civil rights movement. Because of his outspokenness and participation as a demonstration leader, he faced repeated harassment, violence and imprisonment.
Today, he is one of the leading Christian voices on racial unity and reconciliation — and this year's recipient of Biola University's Charles W. Colson Conviction and Courage Award.
"John Perkins is a giant of the faith who speaks clearly, prophetically and biblically," said President Barry H. Corey, who presented the award to Perkins on Feb. 22 at Biola's annual Student Congress on Racial Reconciliation.
Recipients of the Colson award exemplify a life of commitment to the unshakeable truths of a biblical worldview and a willingness to act on biblical convictions, however risky or challenging.
Perkins, the son of a sharecropper, was born into poverty, and at 17, fled to California after his older brother was killed by a town marshal. In 1960, he accepted Christ and returned to Mississippi to share the gospel. He's not only an activist but also a minister, a community developer, an internationally known author, Bible teacher and philosopher. He is also founder and president emeritus of the John and Vera Mae Perkins Foundation for Justice, Reconciliation and Community Development, a non-profit that teaches and promotes the principles of Christian community development and racial reconciliation.
Corey called Perkins a source of hope for the biblical call toward unity in Christ.
"This is not the end, but hopefully a continuation of what was started in my life through this movement, a revival from the church," Perkins said upon receiving the Colson award.
The award was established in 2014 by the Colson family to honor the legacy of the late Charles "Chuck" Colson, a Christian leader and evangelist who founded Prison Fellowship and the Colson Center for Christian Worldview. Recent recipients include "Mama Maggie" Gobran, founder of Stephen's Children; author and disability advocate Joni Eareckson Tada; and Colson himself in 2014, awarded posthumously.