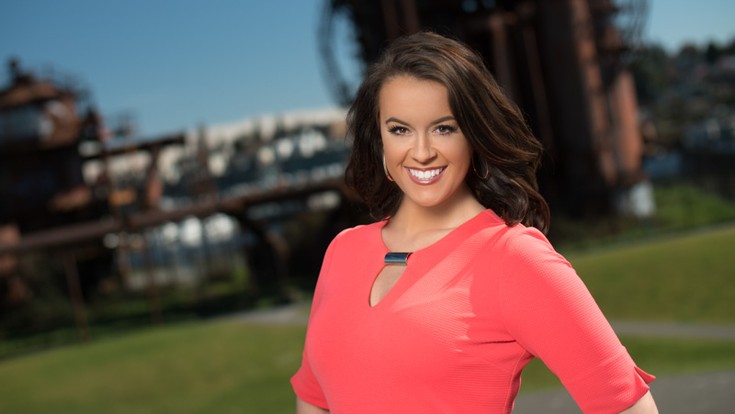 One of Katie Boer's ('08) life goals was to win an Emmy by the time she was 30. After receiving two previous nominations, she achieved that goal last year when she received an Emmy from the National Academy of Television Arts and Sciences for the Pacific Southwest Chapter. Excited as she was, she'd never imagined the story would be so personal.
In December of 2016, Boer's mother was diagnosed with Lewy Body Dementia, an accelerated form of the life-altering disease. At the time, Boer, working in Las Vegas, did her best to be a caretaker from 1,200 miles away. But after just 15 months in Nevada, she decided to move back home to Washington to care for her ailing mother.
As a journalist, Boer took the opportunity to tell a story of humanity.
"If this is going to have to happen, there's got to be some sort of good that is going to come out of it," she said. "If she has to suffer like this, let's try to help people along the way."
With a friend, Boer created "Dementia Diaries," a video series documenting her mother's continued battle with dementia. Since the series' creation, Boer has seen its reach grow immensely and has welcomed the countrywide response.
"You hope that your voice makes a difference," she said. "And when you see that things are actually happening, it's kind of incredible."
Boer has never been one to back down from a challenge. At Biola, she was heavily involved in the journalism department, playing a major role at EagleVision and The Chimes, all while finishing her degree within two and a half years.
"I never slept," she said. "I think I pulled two all-nighters a week in college. But I loved it — I had the time of my life."
After graduating, she quickly moved up the broadcast ladder, worked at KLAS 8 News Now in Las Vegas, where she produced her Emmy-winning story "Dementia: Love From Long Distance," and is now a meteorologist at Q13 Fox News in Seattle, Wash. She devotes herself to being her mother's primary caretaker while producing her video series.
Despite the hectic schedule, Boer found time to accomplish another life goal: running in the 2018 New York City Marathon. She ran in support of CaringKind, an Alzheimer's and dementia care charity, raising $8,000 and dedicating the race to people she knows who are engaged in the struggle with dementia, a struggle she likens to a marathon.
"It's not a sprint," she explained. "You really have to settle in for the long haul, especially with Alzheimer's."
As long and difficult as the journey has been, Boer has no intention of giving up as a runner, journalist or caretaker.
"I'm gonna run it for as long as I can, as fast as I can," she said. "I'm not just gonna pull out of the race."
Watch Katie's Emmy-winning story, "Dementia: Love from Long Distance."