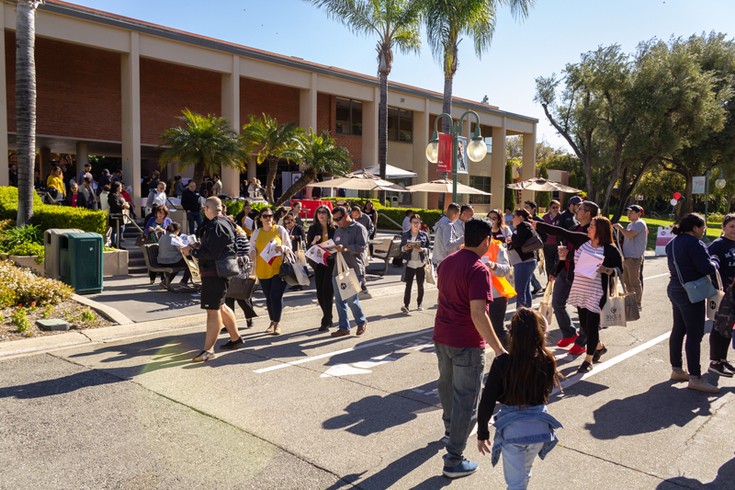 Biola celebrated an important milestone this spring in its ongoing efforts to partner with and support local Hispanic ministry leaders.
In March, the university's Talbot School of Theology hosted the 40th annual Biola Hispanic Conference, an event designed to address some of the unique needs and opportunities of local Spanish-speaking churches. Since launching in 1979 with 60 participants, the conference has grown significantly to more than 400 attendees this year, who received context-specific training and fellowship during the daylong event.
"Over the years, the conference has touched thousands of lives by grounding Hispanic Christian leaders more deeply in the Word of God, training and equipping them to serve the Lord more effectively, and by providing a context for fellowship and encouragement as they come together to worship and learn," said Clinton E. Arnold, dean of Talbot School of Theology.
The conference's original purpose was to train Sunday school workers, but it has since become a widely attended Spanish-language conference that equips pastors, church leaders and workers from all over Southern California.
Arnold said the event is just one of the ways that Biola and Talbot are seeking to equip Latino ministry leaders in Southern California, which has a larger Hispanic population than any other metropolitan area in the country, according to the Pew Research Center.
"As we look into the years ahead, it is my goal as dean of Talbot to expand our partnership with the Hispanic Christian community and to identify more ways that Biola and Talbot can serve," Arnold said.
As part of this year's conference, Rodelo Wilson, conference co-founder and president of El Seminario de Las Américas in El Monte, Calif., was recognized for his 40 years of service; he will retire from the conference committee after this year.
"I was particularly struck by Rodelo Wilson's 40 years of leadership on the coordinating committee," Arnold said. "It is a testament not only to his faithful service, but also to his conviction about the value of this conference for the Hispanic community year by year."
Wilson served as the conference director for the first 20 years, later passing the baton to Hugo Garcia (M.A. '93), pastor of Iglesia Bíblica Fundamental de La Habra and a former Spanish professor at Biola. Garcia has now served as the conference director for 20 years.
Before the conference, Garcia talked about the importance of this year's theme for the Hispanic church: La Familia y la Iglesia en el Siglo XXI: Manteniendo la conexión entre las generaciones ("Family and Church in the 21st Century: Maintaining the Connection Between Generations").
"The topic this year is very crucial," Garcia said. "There is an exodus of second- and third-generation from Hispanic churches to Anglo churches, so the theme of this year is how to keep those generations connected within the church, providing what they need instead of letting them go to look somewhere else."
Garcia discussed how Hispanic churches don't seem to talk about this issue enough. His daughter, Carolyn Garcia ('08), who also served on the conference committee, inspired the theme, he said.
"The second-generation are living in between two cultures — the Hispanic culture and the English-speaking culture," he said, explaining how second-generation Hispanic Christians may leave Spanish-speaking churches but still feel not quite at home in English-speaking churches. "'My heart is Hispanic, my language is English; I don't fit well here but I don't fit well there.'"
Keynote speaker Daniel A. Rodriguez, a professor of religion and Hispanic studies at Pepperdine University's Seaver College, talked about the existing challenges to the Hispanic church as a growing number of younger Latinos prefer speaking English and often feel divided in Spanish-speaking congregations.