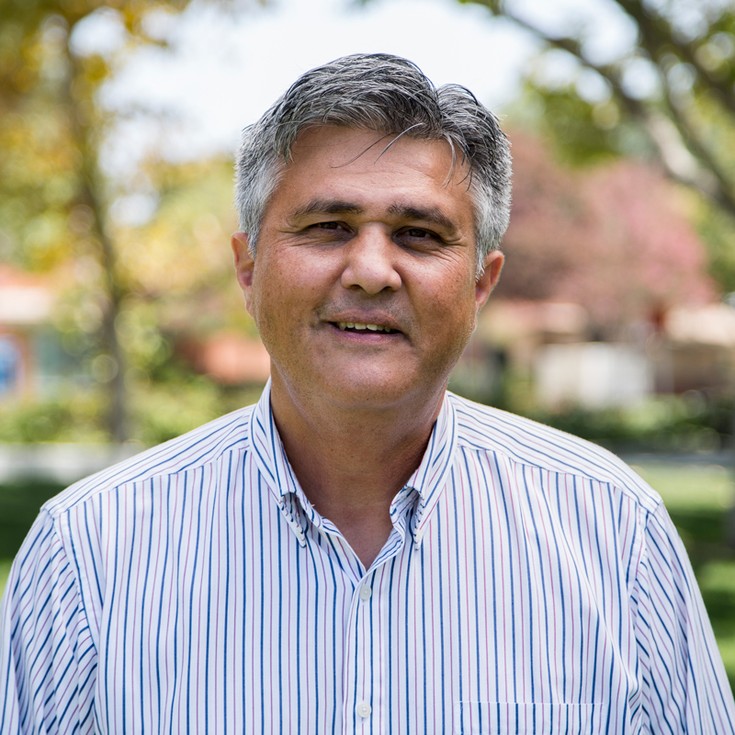 William "Bill" Simon, a beloved professor of public relations and journalism, passed away on Feb. 28 after a brief illness. Simon, who was 57, devoted more than 30 years of his life to a career in media and shared his passion for public relations with Biola students for nearly 10 years.
Simon started at Biola as an adjunct professor in 2010 and became a full-time professor in 2015. He was instrumental in growing Biola's public relations program and was working on developing a new concentration in advertising.
Colleagues and students described Simon as a man of compassion and generosity who deeply loved his Lord.
"He was more than a professor to students; he was a mentor and friend," said Tamara Welter, chair of the Department of Media, Journalism and Public Relations. "I shared conversations [with Bill] that challenged me as a professor, as a human being. His deep care for all that he set his hand to was driven by a desire to honor his Creator. He will always be a part of my person and, I am sure, anyone he met during his service in this life."
Simon would praise colleagues pursuing journalism and public relations as modern-day "shepherds of storytelling and influence." He had wide experience in the field — including radio, television, print and digital. He worked with many notable nonprofit organizations and for-profit companies, including the California Space Authority, the Columbia Memorial Space Center, NASA and Salem Communications Corp. He also worked with award-winning authors, writers, screenwriters, editors and designers, and edited more than 40 book titles.
Simon, a lifetime member of the Omicron Delta Kappa Leadership Honor Society, received a master's degree from Northwest- ern University's Medill School of Journalism and a bachelor's degree in English and political science from Westmont College.
The Biola community remembered Simon and his impact at a memorial service on March 24. To honor his legacy, the Department of Media, Journalism and Public Relations created an endowed scholarship called "The Bill Simon Scholarship Fund."
To give to this fund, go to giving.biola.edu. Click "Give Now," select "Other" and type "The Bill Simon Scholarship Fund" in the space provided.