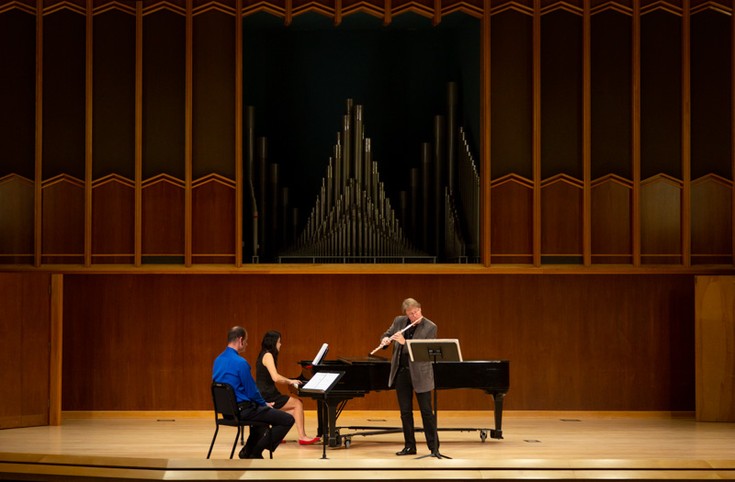 On a sunny October afternoon, guitarist Adam Del Monte entered Crowell Hall's auditorium through a side door and took his place in the middle of the stage. For the next 30 minutes, he unassumingly played intricate runs and intimate melodies from across the classical and flamenco spectrums. Biola music students, some taking notes, sat in the audience transfixed by the musician's abilities.
In 1964, organist Richard Unfried gave the first ever Music at Noon concert. Ever since, Biola's Conservatory of Music has sought to display reputable and diverse performances like Del Monte's at the long-standing midday program, and they believe Biola is in the perfect location to do so.
"These are all kinds of unique experiences that our students wouldn't find if we weren't here in Los Angeles," said George Boespflug, director of the conservatory. "Having the school connected with artists from the city is really important."
Home to Capitol Records, the Greek Theatre and the Walt Disney Concert Hall, among other iconic landmarks, Los Angeles has become a music metropolis, drawing artists from all over the world. Del Monte, an award-winning composer, performer and recording artist, moved to Los Angeles 25 years ago from Madrid, Spain, in large part because of the diversity he found.
"You just have a lot of everything here in L.A., and that certainly is spilling into Biola," said Del Monte, who recently joined the Conservatory of Music as a studio artist. "I think that comes to expression in the moment of producing art."
However, it's not just the major landmarks that make the city an ideal place for young musicians. For those looking to work their way into the industry, students have an opportunity to find their forte within a sprawling metropolis overflowing with cultural life and art. From Long Beach to Pasadena, mariachi to hip hop, there is no better place to explore the expansive musical universe.
"There are a lot of niche areas within the music industry here," said Hunter Green, a sophomore commercial music major. "L.A. is just the mixing pot. It's the place to be for music."
Immensely important to the development of music students is their observation of professional musicians working in Los Angeles. Music at Noon is set up to aid that growth, offering free shows every Wednesday open to both the school and the community, with genres ranging from classical to modern jazz. In more recent years, students have had the chance to hear from phenomenal talents such as pianist and Grammy nominee Nadia Schpachenko, famed violinist Midori and touring folk band The Show Ponies.
"It's beautiful to me — we can learn from each other musically," said Laney Ribota, a senior music in worship major. "Music is one thing that transcends all races, all ethnicities, backgrounds, income. It doesn't matter who you are."
The program typically draws more than 100 attendees, including Biola students, staff and faculty, and people from the La Mirada area, including local visitors and homeschool groups. Boespflug hopes to see the Biola community take greater advantage of the opportunity that Music at Noon presents: "They would not go away disappointed," he said.