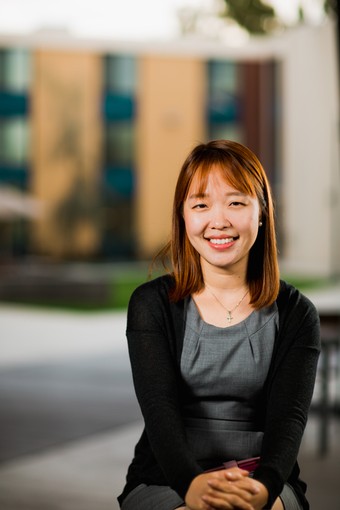 Hyuna Lee's fish-filled laboratory just hatched its first babies in the new Alton and Lydia Lim Center for Science, Technology and Health — and the Biola professor is excited about the scientific insights they have the potential to offer her students.
Zebrafish are now widely used for research, not only because of the species' short reproduction cycle, breeding capacity and low-maintenance requirements, but also because of its biological similarity to humans, with almost 70 percent of human genes found in zebrafish. Other benefits of using zebrafish in research include the ability observe their development through their transparent embryonic membrane; testing transgenics, or the ease of introducing genetic changes; and the fish's ability to regenerate tissue and organs, including the heart, spinal cord, retina and fins.
"Zebrafish have this amazing capability to regenerate, unlike us humans and mammals," said Lee, an assistant professor of biological sciences. "The question is, what are some genes that are being expressed in this fish that they're able to regenerate without scarring that we can incorporate in humans?"
When Lee was a student, she wanted to pursue a career in health care, especially after working with medical mission teams in Paraguay, where she grew up. But when she started studying at the University of California, Irvine, where she also earned her doctorate in biomedical sciences, she had a professor who changed her trajectory by cultivating her interest in research.
"I spent hours in the lab — past midnight — running experiments," Lee said. "I just love running experiments, collecting data, troubleshooting, thinking about different ways to approach the experiment and learning more about newer pathways and being part of this new discovery.
Inside Biola's new zebrafish space — which features a dedicated husbandry lab and a sophisticated FV 3000 Olympus Confocal Research Microscope for imaging analysis — students in Lee's directed research class are being trained in zebrafish husbandry, caring for the fish and creating the optimal environment for breeding and the production of healthy embryos for experimentation. Because of the fish's phenomenal capability to regenerate, they're also working on tail fin regeneration.
She hopes she and her students can study angiogenesis — the formation and remodeling of new blood vessels — and run experiments to see if certain drugs are effective in reducing angiogenesis in cancer cases.