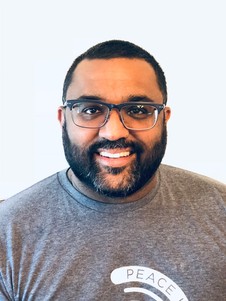 When Lana stood up in front of a room of her peers — fellow Syrian refugees, Turks, Americans and Canadians — and chose to forgive the pilot of the plane whose bomb killed her father as he drove an ambulance, Sam "Saji" Oommen ('90) knew God was moving supernaturally.
Saji, founder of Building Leaders 4 Peace (BL4P), an organization focused on the work of peace and reconciliation, has dedicated his life to community and economic development overseas. The entrepreneurial tools he received as a business major at Biola and his MBA at Eastern University have been put to work in India, Turkey and beyond.
"We did a camp in 2016 where we brought 25 Christians from the U.S., Canada and Australia to connect with 50 refugees and Turks," Saji said. "We brought people together just to talk about peace, specifically focusing on forgiveness and reconciliation. Peace is an ethereal word, but we brought them together to engage in forgiveness."
That original BL4P Peace Camp in Turkey led to invitations to lead camps in Northern Iraq, Colombia, Indonesia, Berlin and Burma. This year, they held the first U.S. camp in Fresno, Calif. In each camp, the goal remains the same: to bring young people together in a safe space to build friendships across cultural, religious, ideological and lingual lines.
But how does a former business major become a peacemaker?
As a freshman, Saji lived with upperclassmen in Horton Hall, who took him under their wing and whose character and conviction drew him to deepen his faith.
"I was engaged in this rich heritage of young people who were embodying the Biola virtues," he said. "They gave me the world. That's what I want to do for Muslims and Hindus — give them a world where we can talk and have relationship, not compromising as Christians but living as peacemakers, bringing people together in a safe space. That's the world I want to give to these young people, because it was given to me by a previous generation of Biola students. There are hundreds and thousands of us — Biola students and alumni — who are on the down-low impacting the world, just like the mustard seed."
Saji and his wife, Bindu, and their four children, one of which has just started at Biola, continue doing just that, both stateside or overseas.
"There's an invitation to join a movement of peace as alumni, as current students," he said. "'Blessed are the peacemakers for they shall see God.' There's a place for us to make impact in this world."
To learn more about Building Leaders 4 Peace, visit BL4P.com.