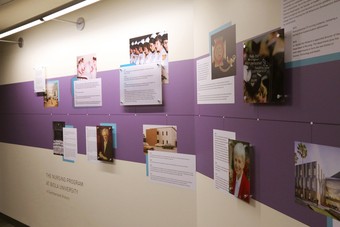 A well-trained medical professional can mean the difference between a punctured lung or a perfect incision, a loss of consciousness or increased confidence. But a well-trained Christian medical professional, what difference do they make?
According to longtime nursing professor Anne Gewe, they make a world of difference — as evidenced by the more than 1,500 world-impacting Biola nursing graduates who have gone on to provide excellent medical care and share Good News throughout the program's 50 years in existence. On Oct. 27–28, over 300 graduates and family members gathered to celebrate the Department of Nursing's 50th anniversary, a chance to celebrate the department's past and look ahead to its bright future within the new Alton and Lydia Lim Center for Science, Technology and Health.
"This is what we, as nursing people, are about," Gewe said. "We are about the cross of Jesus Christ, taking it to the world. And of course, the truth of Scripture. That's where we lay down our lives."
Though Gewe is set to retire in August after nearly 40 years as a full-time faculty member, her self-assigned final project was to gather the nursing department's illustrious history, chronicling the leaps and bounds medicine has made over the years — and how Biola has kept up with them to continue building a strong population of Christ-centered nurses.
From its origins as a branch of the School of Missionary Medicine at Biola's Los Angeles campus, to the first Bachelor of Science in Nursing class of 1971, to the latest graduating class, the legacy of maintaining a missional focus has never wavered. Since the beginning, the nursing program has pushed the boundaries of safety and comfort in reaching those in need of the gospel, whether in the nearby neighborhoods of Los Angeles, or in far-off countries like India and Thailand.
"We know there's a huge need for nurses; we've always been a really popular major," said Rachel Van Niekerk, now in her second year as director of nursing and her 12th year at Biola. "We definitely want to maintain the quality of what we're doing, and I think part of that comes from the faculty. ... They pour into students their heart and their soul and their love for nursing, but also their love for Christ."
As the department looks to the future, its plans include proposals for a master's degree in nursing education, a much-needed field of study. In addition, Van Niekerk sees a profoundly benefited educational quality due to the technology implemented through the Lim Center.
"We're still trying to figure out all of the technology capabilities that we have here, because the classrooms are very high-tech and there's lots going on," Van Niekerk said. "It's a big deal, but we're excited to be part of it."