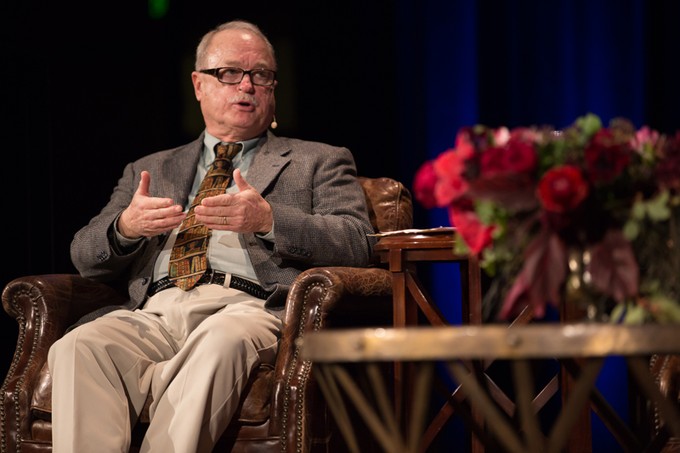 J.P. Moreland, distinguished professor of philosophy at Biola's Talbot School of Theology, spoke at the National Institutes of Health's headquarters in Bethesda, Md., on Feb. 27, as part of an event on science and philosophy.
Moreland explored dueling perspectives on the brain and the mind in a talk titled "Philosophical and Empirical-Neuroscience for Determining the Nature and Existence of Consciousness and the Soul," kicking off a lecture series hosted by the newly formed NIH interest group Scientia et Philosophia, which seeks to expand NIH researchers' understanding of the philosophical foundations of the scientific endeavor. NIH, the nation's medical research agency, is part of the U.S. Department of Health and Human Services.
"It is an incredible honor to be asked to speak at NIH, given what a prestigious institute it is and that it is a collection of top scientists and researchers," said Moreland, who spoke to an audience of nearly 130 people that included neuroscientists and heads of national research groups, as well as researchers, clinicians and staff. Most of the audience were physicalists, those who consider consciousness physical.
Moreland presented a philosophical case for dualism, a view which argues that consciousness is immaterial and that the soul is real. As he presented ontological questions, he explained "the inadequacy of empirical neuroscientific methodology" to answer them.
"I think neuroscientific contributions are best when dealing with correlations, causal relations or functional dependencies and discovering more and more details on those," Moreland said. "I think it is philosophical reflection that gets at the very fundamental heart of what exactly is consciousness and what it is that owns or possesses consciousness."
Moreland, whose latest book, Scientism and Secularism: Learning to Respond to a Dangerous Ideology, was published by Crossway in September, is listed by The Best Schools as "one of the world's 50 most influential living academic philosophers."