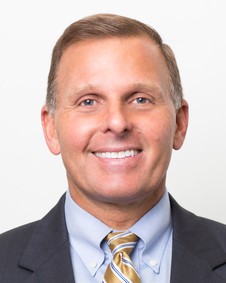 Biola's School of Fine Arts and Communication has a new guy in town: Todd W. Guy, that is, who will serve as the school's founding dean. Guy comes to Biola from Indiana Wesleyan University (IWU), where he served for 25 years in various roles, most recently as the interim dean of IWU's School of Arts and Humanities. His background is in music education, church music and applied voice, and his doctorate is in choral conducting. He'll begin his new role at Biola on July 2 — where he'll lead the school that now includes the Conservatory of Music and the departments of art, communication studies, and media, journalism and public relations.
Here are seven things to know about him as he steps into his new position.
1. He was born and raised in the Midwest. Guy was raised in Bellaire, Mich., where the population is a little over 1,000. He lived there until he went to college in Indiana, then moved to Illinois, where he received his master's at Northwestern University. He moved back to Indiana to start his teaching career, lived in San Diego for just a year, and has since lived in Indiana for the past 17 years.
2. He thought about being a dentist but joined the college choir instead — and the rest is history. He was a pre-dental student in college but had room in his schedule to join a music ensemble. "While at Marion College, I auditioned for the choir, and was selected to be a member," Guy said. "It was during my freshman year that the infectious bug of choral music bit me, and I quickly changed my major to music, simply because of the passion that was awakened through that experience."
3. Church music was a large part of his childhood. He grew up in a small Wesleyan church. And while he always enjoyed singing in church, it wasn't until high school when his pastor noticed his musical abilities and helped him grow as a worship leader. "He would let me select the worship sets and lead the singing in the morning and evening services," Guy said.
4. He's traveled to seven countries. Including Canada, England, France, Germany, Ireland, Italy and Scotland.
5. One of his favorite performances was in an old converted salt mine warehouse in France. The acoustics were phenomenal for choral singing, but that's not the reason why it stands out as one of his favorite performances. "The people from this community were so welcoming and appreciative of the students and our music," he said. "God met us all in a special way that evening. It was obvious to those who attended that the music was a conduit that connected us to our French friends and to him.
6. Of all his strengths on the StrengthsFinder assessment, "belief" is most important to him. "Those who have the theme of 'belief' have core values that give direction and purpose to their lives," he said. "The most important core value that is unchanging is my commitment to Christ. My commitment to Christ guides everything I do and say." That's what led him to Biola. "My wife and I really felt that God directed us to Biola," he said. "While it would be very comfortable to stay at IWU, we have been reminded on so many occasions that God doesn't always call us to be comfortable; he simply calls us to be obedient."
7. He and his wife love being grandparents. He and his wife, Lisa, married for more than 30 years, met while singing in their college choir. They have two adult children who are married, a daughter in college who will be getting married this summer, and two grandkids (with another one coming!). He and his wife enjoy running mini-marathons and have finished more than eight in the last several years.