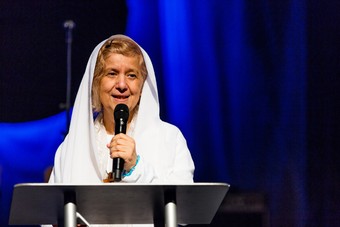 Maggie Gobran, founder of Stephen's Children, a ministry in Cairo, Egypt, was honored by Biola this spring with the Charles W. Colson Conviction and Courage Award. President Barry H. Corey presented the award to Gobran, who is affectionately known as "Mama Maggie," on March 14 at Biola's 89th annual Missions Conference, a student-run three-day conference on campus attended by the entire undergraduate student body.
"The committee wanted to honor Mama Maggie's conviction and courage in caring for tens of thousands of children and their families in the slums and squatter areas of Egypt through her organization, Stephen's Children," Corey said. "She has made a remarkable contribution through her service to Coptic Christians struggling under heavy persecution."
The Colson Award is an annual honor given by Biola to Christian individuals who embody a demonstrated commitment to the unshakable truths of Scripture and its application in all areas of life (conviction) and a willingness to act on biblical convictions in a bold and yet compassionate manner, however challenging or unfashionable it may be (courage). In presenting the award to Gobran, Corey expressed his appreciation for her service.
"Mama Maggie, you are an inspiration of courage and Christian virtue to all of us," Corey said at the ceremony. "Thank you for your willingness to take up your cross and follow Christ. Thank you for modeling a strong, humble spirit of Christian service. Thank you for making such a difference in so many lives for the cause of Jesus Christ."
Since 1989, Gobran has dedicated her life to serving the poor and forgotten children in Egypt's garbage slums. She grew up in an upper-middle-class family and eventually became a successful businesswoman and professor at the American University in Cairo. However, she gave up her career after she saw children were living in abject poverty and persecution and decided to serve them.
"This honor is for everyone," Gobran said upon receiving the award, "for every child who is hungry, for every old one who is neglected, for every young man and woman you know who is oppressed and lost, for every mother and father who miss their children, for every spirit of life that is wasted away. We honor them. We tell them today, from here, someone prays for you, someone cares."
Stephen's Children is dedicated to building relationships with the poorest and most vulnerable families in Cairo. Gobran has built 97 community medical centers and schools in the slums and serves over 40,000 children and their families. Every day, the Zabaleen, or "garbage children," are morally, educationally and spiritually equipped to serve the world for God through the ministry of this organization.
Biola University, with the Colson family, established the Colson Award in 2014 to honor the legacy of the late Charles "Chuck" Colson, a Christian leader and evangelist who founded Prison Fellowship and the Colson Center for Christian Worldview. Past recipients include author and disability advocate Joni Eareckson Tada in 2017; religious freedom advocate Paul Marshall in 2016; humanitarian Baroness Caroline Cox in 2015; and Colson himself in 2014, awarded posthumously.