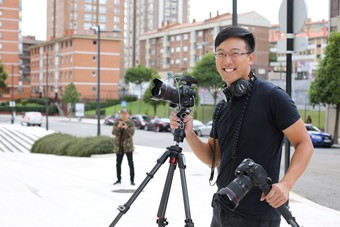 In 1998, after the first version of Starcraft was released, 7-year-old Tomber Su networked a couple of computers together so he and his brothers could play the video game together. It was not an easy feat at that time to connect the computers, and it was an added difficulty that Tomber's parents were not supportive of them playing video games. That did not stop Tomber, though.
"It was basically a decade-long war of us trying to play games and them trying to get us to not play games," Tomber said. "The irony is now we get paid to play games."
In 2017, Tomber was named one of Forbes' 30 under 30 for Games, due to his leadership of High School Starleague (HSL), an esports tournament for high schools nationwide. He was one of the first five people in the organization and quickly became the managing director who runs the league.
During their first season, HSL had approximately 90 schools sign up to participate in a Starcraft 2 tournament. During their most recent fall season, they have expanded to approximately 1,000 schools and eight different games. They also have given away approximately $75,000 in scholarships the last few years.
Not only do these competitions present the opportunity to earn scholarships, but they allow students to forge a community with peers who have similar interests.
"A lot of these students would only be sitting at home playing video games but instead they now have a chance to compete with their classmates and form that team relationship that we as a culture have found so important over the past several decades," Tomber said.
The operation at HSL has grown so large that it has now spun off into Bento GG, a broadcast creative agency that works with different companies in the video game space, such as Twitch, a leader in the industry.
"We realized that esports broadcasting tournaments and streaming were going to be a very big thing, and a lot of companies were approaching us to do more broadcasts and events, so we spun off a second production which now is called Bento GG," Tomber said.
Their prediction about the growth of esports was accurate. According to NewZoo, esports revenue grew from $325 million in 2015 to $655 million in 2017, more than doubling in just two years.
This greater workload is something Tomber was prepared for, though, as he balanced many responsibilities while a student at Biola. He began his work at HSL before enrolling at Biola, and continued that role as he took on others as a student.
"At the peak, I was doing my music major, a B.A. in music, and working as a Chimes photographer and working as a rental property manager on top of doing HSL and leading all of our productions," he said. "So I was balancing three jobs and school and whatnot throughout the greater part of the four years."
In addition to his continued work at HSL and Bento GG, Tomber is a broadcast producer at Blizzard Entertainment, an American video game developer and producer.