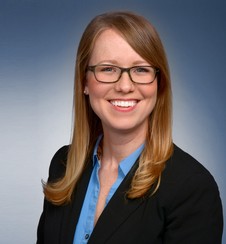 How does a fact-finding trip in the Dominican Republic for a book about baseball turn into a legal career? Ask Lydia (Ness, '12) Sharp.
On a class trip with fellow journalism students during Sharp's junior year at Biola, the focus shifted from baseball to interviewing young women sharing why they came to the city for the first time. And the stories behind their stories were ones of human trafficking and no way out of their current situations because of extreme poverty.
"They felt empowered by sharing their stories with me, but I knew where it was going to end," Sharp said.
As a freshman, Sharp had briefly explored career opportunities with International Justice Mission and was disappointed to realize they primarily hired attorneys, not writers. She stuck with her journalism major so she could investigate and write about injustices, but after visiting the Dominican Republic, and through conversations with her parents, she knew God was directing her down a different path. Law school was next.
"My experience to go that route despite it being completely out of my comfort zone, I feel was because I was able to discern and listen to the Spirit better because of the experiences and education I received at Biola," she said.
After graduation, Sharp moved to Chicago to begin law school at Chicago-Kent College of Law. In the summer of 2012, Sharp was diagnosed with thyroid cancer. Her diagnosis resulted in a one-year deferral and additional treatment in her first two years of law school.
During law school, Sharp honed her focus on the intersection of human trafficking and people with disabilities. She realized there were no next steps or easy answers to the "What do we do about it?" question related to people with disabilities who were being trafficked and abused. So Sharp wrote a grant proposal, and after graduating and passing the bar exam in 2016, she became a fellow through Equal Justice Works, sponsored by the law firm Greenberg Traurig to work at Equip for Equality.
Her initial fellowship wrapped up in August 2018, but Sharp continues to work in a staff position at Equip for Equality advocating for people with disabilities and addressing trafficking issues. She and her husband, Andrew, a legal aid attorney, are active in their church and lead in children's ministry.
Her time at Biola was vital to preparing her for her current roles, Sharp said.
"The spiritual development focus has really been a saving grace in terms of making it through law school and finding a center and a purpose in why I am where I am," she said. "I wouldn't have had the bedrock and faith I had going through law school and working through a diagnosis. Biola shaped the trajectory of my life."