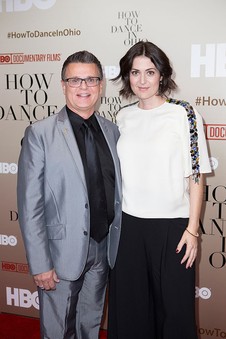 When Emilio Amigo (Psy.D. '86) began to focus his practice on clients on the autism spectrum in the 1990s, he realized the treatment approaches at the time focused more on behavior than developing the whole person. Since then, Amigo developed and trademarked a treatment program — Respons*Ability Social Therapy — that helps clients grow and develop emotionally, socially and behaviorally. His work has garnered attention in his field and was recently featured in a Peabody Award-winning documentary, How To Dance In Ohio, which aired on HBO.
After graduating from Biola's Rosemead School of Psychology and completing a post-doctoral position, Amigo established Amigo Family Counseling in Ohio in 1994. His practice wasn't initially focused on clients on the autism spectrum disorder, but that changed as he worked with an increasing number of patients with autism and when his nephew was diagnosed with autism.
"I wanted to do more intensive training, so I went around the country to different seminars on treating patients with autism," Amigo said. "I wasn't really happy with the approaches utilized. I thought they were a bit too limiting and too focused on behaviors. These are human beings who have emotions, needs, and they have wants. They are intelligent."
As he continued to work with patients with autism, Amigo realized he had an affinity for these clients. As a native Cuban who came to the United States with his family when he was young, he relates to his patients' experience of being different.
"We came to Ohio where my dad finished his medical degree, and I was a minority," Amigo said. "My home was still very Cuban. I didn't understand colloquialisms, traditions or the norms. I know what it is to be different."
Amigo relates his clients' experiences of having autism as similar to his own journey of learning a new culture.
"I have a heart for people who don't fit into the culture around them," he said. "It really is a cultural thing. My patients are here in this world, but they are not of our culture and they are trying to understand the culture around them without losing their own personal culture. I'm very sensitive about that, and I think it expresses itself in my work."
Amigo's Respons*Ability Social Therapy model and program for autism spectrum disorders is an approach centered on group therapy. He incorporates unique social engagements for his patients as part of their therapy, such as formal dances, theater performances and Friday game nights.
In 2013, Amigo was contacted by filmmaker Alexandra Shiva, who heard about his treatment program and wanted to document it. Amigo initially wasn't sure if he was comfortable with the idea. However, after a town hall with his clients and hearing Shiva's vision for the film, he decided to move forward.
The resulting documentary, How to Dance in Ohio, chronicled three of his patients' experiences in his treatment program and preparing for one of Amigo's formal dances — the Amigo Spring Formal. Directed and produced by Shiva, the film was an official selection at the 2015 Sundance Film Festival, and went on to win a 2015 Peabody Award. It premiered on HBO in the fall of 2015.
"I made the decision to go forward with it partially because having a big boom microphone and camera filming us was healthy for my clients to learn how in life people record what they say and remember what we do," he said. "They might not have a camera, but they remember. It helped my clients be more aware. And eventually the microphones and cameras became invisible in our sessions."
When the film premiered, there was a private screening in their town where everyone was able to see the film. Amigo described the experience as heavenly. One patient said he would like to be featured in the next film. Another who had initially asked for his face to be pixelated asked if the filmmakers could remove the pixels from his face after seeing the film.
Amigo is a firm believer in second families — a community outside your immediate family and caretakers or providers. Amigo Family Counseling offers an opportunity for those with autism to have a second family. His center has become a place for his clients to be encouraged, inspired and flourish in society and their personal lives.
"We try to optimally trigger their desire or interest in what we're doing, rather than just teach them life skills," Amigo said. "Their ability today doesn't have to be their ability tomorrow. We are committed to building them up and to equip them to have more abilities, to become more of a social being."