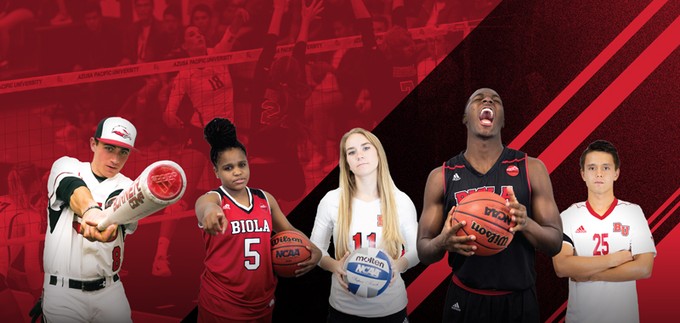 Pepsi vs. Coke.
Apple vs. Microsoft.
Star Trek vs. Star Wars.
Biola vs. APU.
After a five-year pause, one of the best rivalries in the world (or at least in Southern California) is back and better than ever.
With the highly anticipated move into NCAA Division II competition this fall, the Biola University Eagles have been reunited with the Azusa Pacific University Cougars, renewing a cross-town rivalry that stretches back decades between two of the nation's top-ranked Christian universities.
But it's not just APU. As the newest members of the Pacific West Conference, Biola is back in the company of several other familiar opponents: California Baptist University, Concordia University-Irvine, Fresno Pacific University and Point Loma Nazarene University. Up until six years ago, each of these California Christian universities had been members of the Golden State Athletic Conference (GSAC), competing as part of the National Association of Intercollegiate Athletics (NAIA). When they each transitioned to the PacWest and the NCAA in 2011, 2012 and 2015, Biola suddenly saw its longtime rivalries vanish and found itself in the company of mostly smaller Christian universities and liberal arts colleges, with Biola feeling like the odd school out.
But now, the Eagles have arrived. And with them, a renewed sense of energy and competitive drive.
BIOLA AND APU LAUNCH CORNERSTONE CUP
Of course, most of the excitement surrounds the reignited rivalry with APU — which is being celebrated with the launch of a new a yearlong competition between the two schools, dubbed the "Cornerstone Cup." "We are excited to renew our rivalry with Azusa Pacific University this year," said Bethany Miller, Biola athletics director. "It's been exciting to work with them on this campaign as we embark on this new era of athletic competition. We are excited to have strong, competitive experiences with them and we just have so much respect for them as we move forward and renew this rivalry together."
As part of the new partnership, the Cornerstone Cup trophy will be awarded each year to the athletic department with the most success against the other in head-to-head matchups. Ten points are available for each of the men's and women's sports in which each of the schools compete: soccer, volleyball, cross country, basketball, swim and dive, baseball, softball, track and field, and tennis. In each sport, the 10 points are awarded to the team with the better record in head-to-head matchups, or divided equally if the schools' records split. Each team will also receive a smaller trophy for winning the head-to-head matchup.
Already, the level of competition between the student-athletes has picked up right where it left off. Biola holds a 40–10 lead in the Cornerstone Cup through the fall semester, after winning a men's soccer match, placing higher in both the men's and women's cross country championship meets, splitting two volleyball matches and tying a women's soccer match.
The good-natured competitive spirit has spilled into the stands, as well. Biola's "Red Sea" packed out Chase Gymnasium for the women's volleyball victory in October, the only Biola-hosted matchup between the two schools this semester. Meanwhile, at an earlier matchup, an APU student friendly-taunted Eagles' fans by holding up a sign proclaiming, "Biola uses their phones in chapel."
Longtime watchers of the rivalry are excited to see it back up and running again.
"It's only been five years since we were conference rivals, but it feels like five generations," said Gary Pine, Azusa Pacific's athletics director. "I have many fond memories of this rivalry, and I look forward to seeing this rivalry help shape the experience of current and future students."
A STRONG START TO THE NCAA ERA
Beyond the early success against APU, the Eagles put up a strong fall showing across the board during their first year in the NCAA Division II, with several teams advancing to postseason competition in the National Christian College Athletic Association (NCCAA) — including three national championships and two second-place finishes. (As part of the transition process to the NCAA Division II, Biola is not eligible for NCAA playoff competition until the 2019–20 season, but will compete in the NCCAA over the next two seasons).
In November, the Biola men's cross country team took first place in the 2017 NCCAA Division I National Championship to earn Biola's first team national championship since 1985. The women's cross country team placed second to Cedarville University, finishing just 12 points behind. Biola sophomore Gabe Plendcio became the individual national champion, claiming the top honors in the men's race. "It was a great trip for us and we are so blessed that God was willing to bless us with the success we had today and throughout the season," head coach Sean Henning said after the event. "This program will continue to grow and become a great NCAA Division II team, and we will strive to give God all the glory in all of our efforts."
On Dec. 2, the Eagles earned two more national championships on the same day, in women's volleyball and women's soccer.
Led by Tess Van Grouw and Sabrina Winslow, who earned NCCAA All-American first team honors, the women's volleyball team won eight consecutive games in a row to cap off their season, claim their first-ever national championship with a four-set victory over No. 2 seed Campbellsville University. Coach Aaron Seltzer was named NCCAA Coach of the Year.
Meanwhile, the women's soccer team claimed their first national championship with a 4–0 victory over No. 1 seed Indiana Wesleyan. The team ended the season with an eight-match winning streak and a 17–3–2 overall record.
Meanwhile, the men's soccer team finished their season at 7–5–1 overall, including PacWest wins against Notre Dame De Namur and Azusa Pacific at home.
Earlier, in October, Biola's women's golf team made history by completing Biola's first NCCAA podium finish during the NCAA Division II era, placing second.
As Biola looks ahead to the winter and spring sports, and continues to renew the rivalries, the Eagles' coaches and student-athletes say they're excited to be leading the way into a new era for Biola athletics.
"Our fall teams have set the tone for a competitive entry into the NCAA era of competition," Miller said. "We are looking forward to strong performances from our winter and spring programs. It has been an incredible journey with these committed students, coaches and athletics staff as we make this historic transition. They are each modeling how to pursue Christ through personal sacrifice — using their gifts to grow and learn more about self, and relationship with others and God."
---
CONTEND FOR THE CUP!
Together again in the NCAA Division II, Biola and Azusa Pacific are celebrating their renewed rivalry with a new annual competition for the "Cornerstone Cup." Join your fellow fans by attending a matchup in person or tuning in to watch games for free online. Look for details at athletics.biola.edu or by following @biolaathletics on Twitter and Instagram.
| Date | Sport | Location | Time |
| --- | --- | --- | --- |
| Jan. 6 | Women's Basketball | APU | 5:30 p.m. |
| Jan. 6 | Men's Basketball | APU | 7:30 p.m. |
| Feb. 3 | Women's Basketball | Biola | 5:30 p.m. |
| Feb. 3 | Men's Basketball | Biola | 7:30 p.m. |
| Feb. 14–17 | Women's Swim & Dive | PCSC Championships | All Day |
| Feb. 19 | Women's Tennis | Biola | TBA |
| Feb. 19 | Men's Tennis | Biola | TBA |
| March 17 | Softball | APU | TBA |
| March 23 | Women's Tennis | APU | TBA |
| March 23 | Men's Tennis | APU | TBA |
| April 26 | Baseball | Biola | 3 p.m. |
| April 27 | Softball | Biola | TBA |
| April 27 | Baseball | Biola | 3 p.m. |
| April 28 | Baseball | Biola | 1 p.m. |
| April 28 | Baseball | Biola | 4 p.m. |
| April 2018 | Track & Field | PacWest Championships | All Day |