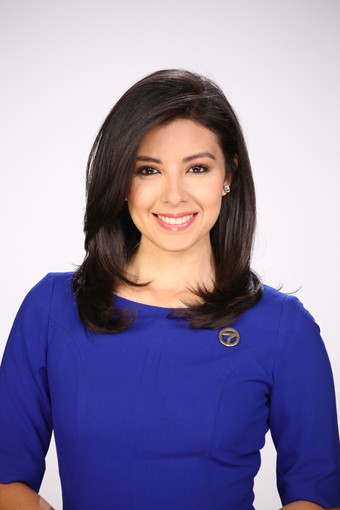 One of Anabel Muñoz's ('10) most memorable experiences to date as a television news reporter began with a phone call.
A young woman named Crystal, who was about 18, had grown up in foster care and was now in search of her biological father, whom she hadn't seen since age 4. The woman didn't have any photos of her father, and had little information about where he could be.
Muñoz remembers praying in her car that God would move the hearts of her producers to give her the green light so that she could broadcast this story and see if a viewer might be able to help Crystal find her father. Immediately interested, the producers said yes.
After interviewing Crystal and broadcasting her story, Muñoz prayed for a miracle — that somehow, Crystal would reunite with her father. Within 24 hours of her report, a man contacted the station through Facebook. The man said he was sleeping while his wife was channel-surfing when she happened to land on a report that was describing her husband. She immediately woke him up and said, "Your daughter is looking for you!"
"We got to watch and report on their emotional reunion," Muñoz said. "That day, I was reminded of the power, influence and responsibility we have in the media — and as journalists. I was also reminded that God's hand is in everything that we do. What's seemingly unlikely for us, is never impossible for him."
Muñoz is still in disbelief that she is working as a reporter in Los Angeles, one of the top media markets in the nation. Muñoz, a native Angeleno, was a broadcast journalism student at Biola. Her first internship with a local congresswoman launched her career when she was given an assignment to create a five-year career plan. According to plan, she applied for her first news internship at KMEX Univision, which turned into her first job as a news assistant and assignment editor while still a student. As soon as she graduated, she started working as a reporter for Univision in Palm Springs, then moved back to Los Angeles to report for MundoFOX and is now working for KABC, a job she dreamt about for years.
Muñoz is passionate about helping those who are homeless or from underserved communities. She also feels called to serve the Latino and Spanish-speaking community, which led to her start at KMEX Univision. Muñoz, a bilingual Spanish speaker, recalls how her family left Mexico to seek a better life in the U.S.
"Their sacrifice allows me to do what I do today," Muñoz said