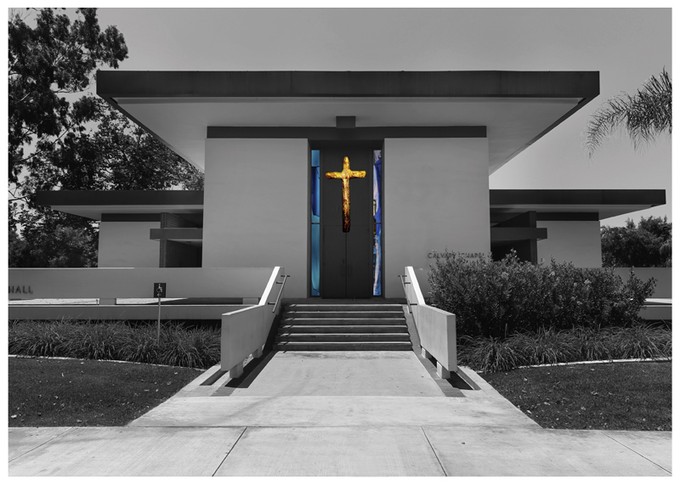 In the center of campus on the west side of Metzger Lawn stands Calvary Chapel. It's a place where thousands of Biola students, faculty and visitors from around the community have gathered since 1976 for worship, teaching and prayer.
While the outside of the iconic building has modern, Wrightian influences, the interior of the chapel is less than inspiring. But that is about to change.
World-renowned Danish artists Peter Brandes and Maja Lisa Englehardt have been commissioned to bring their ecclesiastical expression and depth of artistry to the chapel, transforming it into a sacred space.
The artists are already working on 30 stained glass pieces in their studios in Denmark, France and Italy. The hand-cut, hand-blown glasswork will be shipped to Los Angeles and installed throughout the building. The focal piece behind the altar will be a gilded relief of the resurrection of Jesus. The scriptural themes of the additional works will trace Jesus' life and ministry as well as depict key Old Testament stories. Externally, a new bronze gilded cross will be hung above the main entrance.
In anticipation of the renovation, Calvary Chapel will close in April 2018 and remain closed until work is completed over the summer. The finished chapel will be ready to greet students and guests from near and far when the fall semester begins.
This transformation has been made possible through a generous lead gift from Fieldstead & Company and the support of other friends of the arts. At a total cost of $1.7 million, the project includes the artwork along with new lighting, flooring, furnishings, paint and electrical work to light the stained glass, even at night.
If you wish to give toward the renovation of Calvary Chapel, donations can be made online or mailed to P.O. Box 3760, La Mirada, CA 90637-3760.