At age 76, Nancy Longmire may not look like a typical Biola University student. But as one of the first participants in an innovative new program called Biola LEARN, Longmire has joined a growing movement: lifelong learners who want to continue their education through not-for-credit certificates and courses.
This fall, Longmire joined others in her small group at church to participate in "God and Your Work," a series of video lessons and curriculum from Biola professor Scott Rae. Though she first thought the course would be better suited to those in the workforce, she was surprised by what she learned.
"It was an 'aha' [moment] for me — a major insight to realize that he's not talking about strictly the commercial workplace; he's talking about life and what our purpose is," Longmire said. "I've been retired, and I do a lot of volunteer work and, by his definition, it's valued."
"God and Your Work" is one of the first eight courses offered as part of Biola LEARN, which launched in September as part of the university's efforts to promote lifelong learning for a wide variety of audiences. Biola LEARN — short for Lifelong Education and Resource Network — addresses the desires and needs of many to continue growing in knowledge and wisdom, without the cost and time required to apply and enroll in a degree-seeking program.
"More and more people are becoming what we would call, in industry terms, lifelong learners," said Andrew Yee, administrator for digital lifelong learning programs."That means it's not just a degree and stop, it's people who want to keep learning and growing all throughout their lives, and a degree is not necessarily the best way to do that.
Wide-Ranging, Low-Cost Learning
Biola LEARN is a platform that allows individuals across the globe to learn from Biola faculty on valuable and practical subjects. There are currently eight different courses, three of which are offered in both an individual and small group format. The topics span from Christian apologetics and Christian wisdom for life's biggest questions to relationships and nonprofit management. Current courses range from four to 16 lessons each, with most lessons including both videos and interactive sections to help the participant engage with the information presented.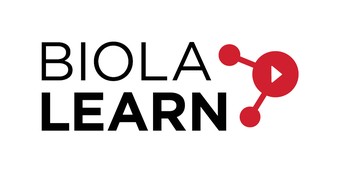 "It's a meaningful learning process and not simply like going on YouTube and watching videos all you want," Yee said. "This is a course, so you might have quizzes, you might have reflection assignments or, in the future, different kinds of assignments, submissions or discussion features."
The small group format is useful for churches and other groups as they can purchase the curriculum once, play the video on a computer or smart TV, and share a downloadable participant guide by email or print copies. Similar to the individual courses, there are reflection questions and other interactive sections that allow groups to engage with the material together.
Both types of courses can be started at any time and are self-paced, which allows participants the flexibility to engage with lessons as their schedules permit. In the future, there may be courses with set deadlines that will allow for the implementation of discussions among participants. Rae, dean of faculty and professor of Christian ethics at Talbot School of Theology, created the "God and Your Work" course due to his conviction that all vocations are a form of ministry.
"All believers are in full-time ministry regardless of where they get a paycheck from," Rae said. "The purpose for [this course] is to uphold the dignity and nobility of work in the workplace, the marketplace. I believe the Bible teaches that the very work we do is a big part of our service to God and a big part of our ministry."
This course is one of the three offerings from Talbot, all of which are offered as individual and group courses. Rae expressed that these courses often originate from the work professors are currently doing in other Biola courses or their research. As far as content, the main difference is Biola LEARN courses are more succinct and get directly to the point since they are in an abbreviated format as compared to the 15-week courses required by degree programs.
"We picked the handful of things that are most important, say them really clearly and well, and then channel some good reflection questions that [participants] can think about and integrate into life," Rae said.
Not long after Biola LEARN launched, Rae's church began using the small group curriculum for his course on work. Though Rae was concerned at first about using videos of himself rather than giving a live presentation, church members were highly receptive and have enjoyed the course so far. "They feel like the videos are real tight and well focused so they don't have any objection to not having it live," he said. "I've been really pleased with how well it has been received so far."
Extending Biola's Educational Reach
Susan Ishii, Biola's chief education technology officer, first formally established the concept for Biola LEARN around 2015, although conversations about not-for-credit education at Biola had begun years prior. In 2015, Biola received a five-year grant from The Kay Family Foundation, an organization that funds different initiatives in the Orange County area, especially those focusing on the intersection of faith and technology.
The funding was intended to extend the university's collection of free educational resources, Open Biola (open.biola.edu), to include not-for-credit courses, but during the design process, the team working on the project realized it would be best to create a new platform. The first version came out in January 2017. Yee took the role of administrator for digital lifelong learning programs in April 2017 and quickly began working with professors to create the courses.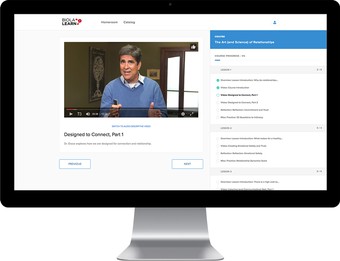 As Yee explains, this platform presents many new opportunities for Biola to extend its educational reach. It allows for a great physical reach due to the internet's boundlessness but also reaches new audience members who would be unable to participate in a degree program.
"At the best level, Biola LEARN is bringing the highlights of a Biola education in a format that is for the everyday person," Yee said.
Evan Rosa, director of Biola University's Center for Christian Thought (CCT) and an adjunct philosophy professor, explained the benefit to using Biola LEARN as a platform to host the CCT's course "Seeking Christian Wisdom for Life's Biggest Questions." The course is meant to take a Socratic approach, by exploring major questions selected from topics the CCT and its fellows have researched.
"We wanted bite-sized, short instructions on the big questions," Rosa said. "[When participants] are looking to be enriched, and they are looking for educational resources, they can turn to something like this [course] for a broadened perspective."
Overall, the increased accessibility for a variety of audiences and members of the church harkens back to the mission Biola had from its creation as a Bible institute almost 110 years ago.
"We are training everyday people to be ministers in whatever spheres they find themselves in for our Lord," Yee said.
So far, the program has seen substantial engagement as 600 guest accounts were created and 100 people with preexisting Biola logins accessed the site within six weeks of the launch on Sept. 6.
Coming Soon: Certificates and Live Courses
As the program is so young, Yee envisions many changes in the near future to promote further growth. One of the biggest additions is the creation of certificate programs. The certificates can be an alternative to a degree, and can be completed within a shorter amount of time and at a lower cost.
"Certificates are increasingly being seen as a way to establish that you have a certain set of skills or a certain set of competencies,"
Yee said. "It serves in some ways the same purpose that a degree used to."
All current class offerings are considered "workshops," but future classes may be considered "courses," which will be larger than the current workshops. Certificates will be comprised of sequenced collections of courses. Unlike the current self-paced classes, professors may facilitate some of these courses on a set schedule. This will allow for submission and discussion features that are not currently available but will help validate skills or abilities being taught.
The goal is to initiate at least one certification program within the current academic year, Yee said. Fortunately, the platform was designed for rapid implementation of new courses.
"Once I have all the course materials, I can take that and build a course and have it live within 24 hours. In fact, for the launch, our record so far is that we took a course from concept to implementation in less than two weeks."
This quick implementation is one way Biola LEARN will continue to expand and reach more audiences, allowing Biola to have an even larger impact on the world for the Lord Jesus Christ.
---
Live and LEARN
Interested in giving Biola LEARN a try? Here's a glimpse inside the eight online courses currently offered on the site. Introductory pricing starts at just $9.99 for select courses. Create a free account and try sample lessons at biola.edu/learn.
Both Individual Classes and Small Group Curriculum
INTRODUCTION TO CHRISTIAN APOLOGETICS
Talbot School of Theology
This foundational course covers what apologetics is, proofs for the existence of God, the rationale for belief in Christ and how to respond to objections about the Christian faith.
BIBLICAL DISCIPLESHIP
Talbot School of Theology
This course looks at the perspectives of Gospel writers on discipleship, and how these understandings can impact lives today when Christians follow the model of discipleship that Jesus established during his time on earth.
GOD AND YOUR WORK
Talbot School of Theology
This course addresses the question of how someone's career or work matters to God, teaching that all professions, not just traditional church roles, can and should be ministry.
Individual Classes
THE ART (AND SCIENCE) OF RELATIONSHIPS
Center for Marriage and Relationships
A combination of biblical wisdom and scientific truth, this course addresses topic such as communication, conflict, emotional safety and the effects of digital technology on relationships.
INTRODUCTION TO NONPROFIT MANAGEMENT
Crowell School of Business
Designed for those starting, managing, leading or interacting with a nonprofit organization, this course presents business strategies and principles that apply to nonprofit organizations.
SEEKING CHRISTIAN WISDOM FOR LIFE'S BIGGEST QUESTIONS
Center for Christian Thought
This course combines the teachings of seven Biola University leaders and professors addressing the seven research themes explored by the CCT from 2012 to 2018, offering practical wisdom to think clearly about these topics.
CRITICAL ISSUES IN CHRISTIAN APOLOGETICS
Christian Apologetics
This course addresses some important topics in apologetics and aims to help students integrate this knowledge into their everyday life, and be equipped to navigate apologetic conversations.
WORSHIP AND FORMATION
Office of Spiritual Development
This course delves into principles and strategies used to create worship sets that are more than just performance, but emanate biblical truth and encourage holistic spiritual formation.