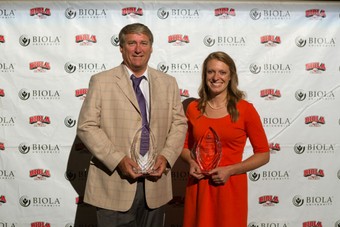 Biola inducted two alumni into its Athletics Hall of Fame on Sept. 24: Jeff Benbow, a three-time All-American men's soccer player, and Christine Tixier, a two-time national swimmer of the year.
Benbow played soccer for the Eagles from 1979 to 1981 and proved to be one of the greats to walk the halls of the campus. He was a three-time NAIA All-American (1979, '80, '81), a three-time NAIA all-district selection ('79, '80, '81) and an NCCAA All-American selection (1979). In his 1979 All-American season, Benbow set the Biola men's soccer record for the most goals scored in a single season (23). In that same season, he broke the school record for points in a season (56), which he still holds today. In the 1981 season, Benbow led the Eagles to a NAIA national tournament appearance. Benbow is in Biola's top five in career goals scored (40) and top five in career points (115), and he holds the all-time record in assists (35).
Tixier put the Biola women's swimming and diving program on the map in the national landscape of the NAIA. The Washington native swam four remarkable years from 2011 to 2015 and helped her team to four consecutive seventh-place finishes at the NAIA national meet. She earned NAIA Female Swimmer of the Year honors during her junior and senior seasons and racked up a remarkable 13 NAIA All-American honors over her career. She won eight NAIA National Championships and still holds three individual event records. As a senior, she was named the Capital One/CoSIDA Academic All-American of the Year. She is the only Biola student-athlete to ever earn that prestigious distinction.