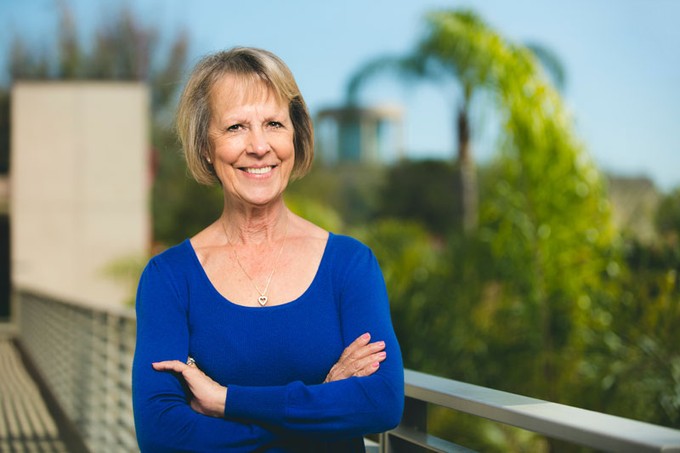 Christie Curtis (M.A. '06) loves language. And as the co-author of a widely popular series of grammar textbooks, the Biola education professor gets to share that love each day with countless teachers and students across America.
Since 2009, Curtis' Grammar and Writing textbooks have sold more than 200,000 copies for use in public, private, charter and homeschool settings, where they've earned high praise for giving students a strong foundation in the English language.
"I feel like this was God's project, and he has blessed this project so abundantly," said Curtis, who serves as chair of the graduate programs in Biola's School of Education. "We never dreamed that this business would go the way it's gone [or sell] as many books as it has sold. I fully believe it's a God thing."
A teacher since 1974, Curtis has long had an enthusiasm for the written word. After many years of teaching English to junior high school students, she decided to enroll in Biola's School of Education, graduating in 2006 with an Master of Arts in Education with a concentration in grammar, writing and curriculum.
Five years later, she published the first four textbooks in the Grammar and Writing series, collaborating with Mary Hake of Hake Publishing, Inc., to develop a rigorous, grade-appropriate curriculum. One of the distinct features of the series is its integration of other academic subjects into the material. In developing the curriculum, she intentionally included writing samples and exercises related to such topics as science and social studies in order to reinforce lessons that students are learning within each grade level.
To date, Curtis and Hake have written textbooks for the fourth through eighth grades, published by Houghton Mifflin Harcourt (for the homeschool market) and Hake Publishing (for public, charter and private schools). A third-grade textbook is currently being field tested.
"Our textbooks function on the premise that you have to work on the foundational skills before you allow students to spread their wings and become more creative," said Curtis, who earned a Ph.D. in higher education from Azusa Pacific University in 2014. "There are some who feel you just let people start writing and hopefully they would learn through just writing and correction. But we have felt that there needs to be some kind of foundation."
There is no capacity to one's ability to learn and understand grammar, Curtis said. Nor is there an age limit. Since publishing the textbooks for middle school and elementary students, Curtis and her publishers have received numerous requests for an adult-focused grammar textbook, which is in the process of being written.
"I'm constantly learning, still. Every time I look at a sentence, I try to break it down and see how the words are functioning in a sentence," Curtis said. "I'm very interested in language ... and I think that enthusiasm spreads to my students."