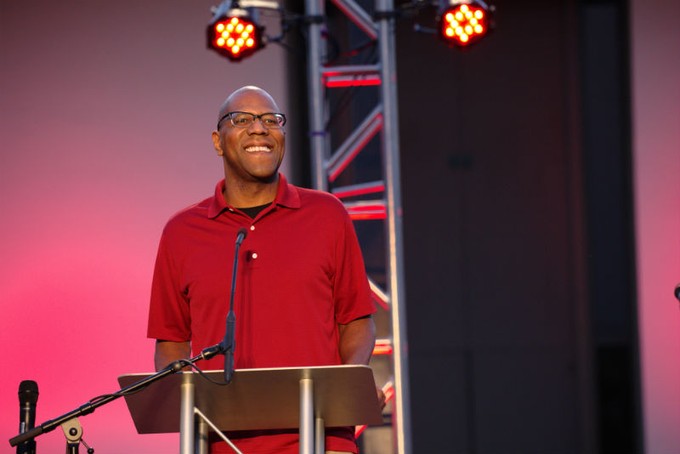 In the fall of 1986 a high school senior stepped onto Biola's campus for the first time during a University Preview Day.
He stayed in the dorms, attended class and chapel, ate in the Caf and found a new home. Thirty years later, André Stephens ('91) is finding another new home at Biola, transitioning into his new office and new role as Biola's first vice president of student development. In this role, Stephens will report to President Barry H. Corey and will serve on the executive committee of the President's Administrative Council.
For Stephens, this new appointment is the latest chapter in a three-decade story of serving students in higher education. After graduating from Biola with a B.A. in communication, Stephens accepted a job as an admissions counselor. Working in higher education was his goal, but he had planned on a career in the classroom, not in administration. He earned an M.A. in speech communication from Cal State Fullerton in 2000, participated in the Harvard University Graduate School of Education's Institute for Educational Management leadership intensive, and is currently pursuing his doctorate in higher education administration at Claremont Graduate University. All the while, he continued serving Biola in a variety of roles within enrollment management, most recently as associate vice president of university admissions.
"I loved working with students and their families to help show them Biola and encourage them in terms of their college dreams and vocational dreams," Stephens said. "The mission of Biola and seeing students fulfill that through the major of their choice was super exciting to me. My work never felt like work to me."
In addition to working with students, Stephens is committed to employee development. In 2011, he developed Biola's groundbreaking Emerging Leaders program to provide a unique professional development opportunity for high-achieving employees. Under his guidance, 55 Biola employees in four cohorts have now benefited from the program.
This heart for development and knack for leadership led Stephens to accept the offer this summer to lead Biola's student development division.
"I'm excited about the opportunity. I want to continue to create and cultivate an environment for our staff to do their best work and for our students to thrive," said Stephens, who began his new role on Aug. 16. "Students come for the classroom experience, but there's also this co-educational role and the co-curricular that's important to their development as well. In this role, being a co-educator with our faculty for student development and student thriving is important. Being able to help facilitate a journey for students — as our value statement says 'truth, transformation, testimony' — to help them encounter the truth of God's word, transform their hearts and minds by the power of the Spirit and then be a testimony to God's work."